EXO To Be Honored As First K-Pop Group To Have Commemorative Medal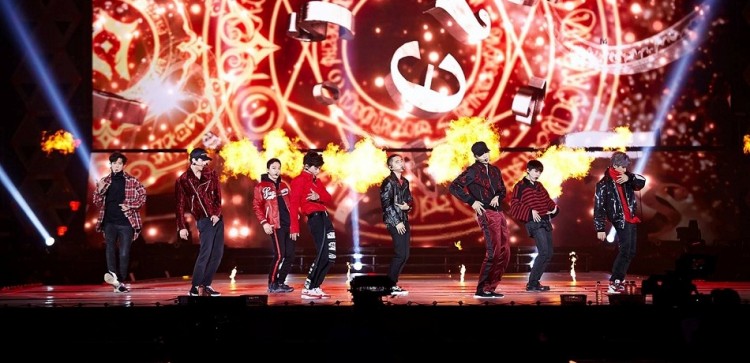 EXO may soon have their own commemorative medal. All of the nine members will be featured on the front of the medal while an EXO logo will be on the back. EXO will be the first K-pop idol to be bestowed with such an honor.
The official commemorative medal will be minted by the Korea Minting and Security Printing Corporation (KOMSCO). The government-owned corporation is also the one that print and mint South Korean banknotes and coins, and government documents like passports. KOMSCO has also released commemorative medals as a tribute to historical figures and cultural landmarks in South Korea. It is also responsible for creating the Pyeongchang 2018 Olympics medals as well as the commemorative coins celebrating the recent Winter Games.
The medal dedicated to the K-pop group will be produced to celebrate the international achievements of EXO and their contribution to the Korean wave. The War hitmakers were earlier praised for their performance at the Pyeongchang 2018 Olympics closing ceremony.
"We are producing an official commemorative medal in honor of top Korean idol group EXO, who is standing at the center of the Hallyu wave," a KOMSCO representative said (via AllKPop).
The EXO commemorative medal is designed by a skilled currency designer. It is expected to be released next month. Each item will have an official number and anti-counterfeiting measures.
EXO's Suho Collaboration With Jang Jae In
SM Station has dropped a behind-the-scenes video of EXO's Suho and South Korean singer/songwriter Jang Jae In's while making their music videos. The singers collaborated on two songs for SM Station, "Do You Have a Moment" and "Dinner," which were both released over the weekend.
At the beginning of the behind-the-scenes video, Suho talked about his bandmates. He has a special shout out to D.O. and Sehun. Suho said the two are both filming movies and making "a lot of money."
Suho also talked about the concept of their music videos and how Jang Jae In got inspiration from Million Dollar Babymovie while he was doing the "church oppa" vibe. He also revealed that it was a long time since he last wrote lyrics. Suho also shared that he sought Jang Jae In's advice on how to bring out the emotions on the song.
The singers' first duet track "Do You Have a Moment" is about the flurry of emotions when someone approaches the one he/she loves. The second song "Dinner" is about a couple going through a rough time in their relationship. The lyrics of both songs were written by Suho and Jang Jae In.
© 2019 Korea Portal, All rights reserved. Do not reproduce without permission.