BTS Update: 'Mic Drop's Singers Might Collaborate With Maluma, 'Fire' Music Video Sets Another Milestone With 300 Million Views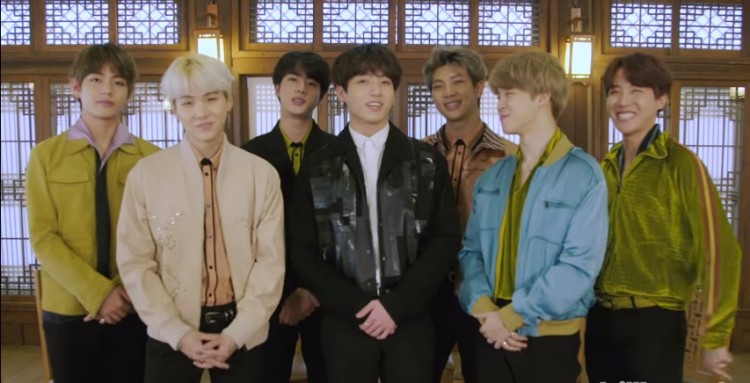 BTS has set another milestone as its track's, titled "Fire," music video also reached 300 million views on YouTube. Aside from that, the "Mic Drop" singers might be seen collaborating with the Colombian artist, Maluma.
The 24-year-old rising star has been known for his music adventures, working with the likes of Shakira and Ricky Martin. In fact, in a Q&A on Billboard Studios on Friday, March 9, he talked about the possibility of working with V, Suga, Jin, Jungkook, RM, Jimin, and J-Hope.
"I would love it," he said when asked about collaborating with the South Korean boy band. Maluma is always open to take on new collaborations with other artists. Thus, he is not ruling out the idea of working with the Asian superstars.
Maluma explained that because of the use of social media, everyone gets the opportunity of listening to the other music around the world. "The world is so small," he added. So, with an open heart to do music, doing a K-pop song is a great idea for him. He also revealed that loves romantic, salsa, pop, and RnB.
Meanwhile, aside from the possible music collaboration with Maluma, BTS has now reached another milestone with "Fire" music video, Yonhap News Agency reported. The song has now reached 300 million views on YouTube, just like the group's "DNA."
It's the boys' second music video that has reached this goal. As of this writing, it now has more than 300 million views, over 340,000 comments, and 3.2 million likes. "Fire" is the lead track of BTS' Epilogue: Young Forever album, which was released in 2016.
It was even ranked number three on YouTube's 2016 list of most viewed K-pop music videos in the world. There are only two music videos from other K-Pop artists that have reached 300 million views on YouTube.
The first one was Twice's "TT" that got the same milestone in December 2017. It was followed by Big Bang's "Fantastic Baby" in June 2017.
Additionally, BTS is planning to release its third Japanese album, titled Face Yourself, on April 4. They, too, are about to do their own rendition of the Japanese remake of Signal's theme song, titled "Don't Leave Me."
© 2023 Korea Portal, All rights reserved. Do not reproduce without permission.