Big Bang Update: 'Fantastic Baby' Singers To Release New Special Single, Says YG Entertainment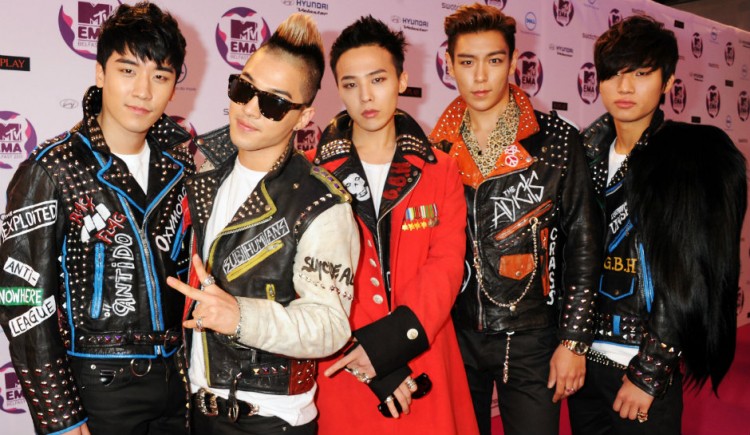 On Tuesday, March 10, YG Entertainment announced on Twitter that Big Bang is about to release a very special song for their fans. Along with the announcement, the music company shared a photo of five different flowers and the track's title, "Flower Road."
The teaser snap is said to be quite mysterious for featuring a floral setting, all in five different colors, in a dark background. In the picture, it is also noted the song's composer, lyricist, and arranger.
It looks like G-Dragon had been busy before he entered the military. The promotional art revealed that "Flower Road" lyrics is written by Big Bang members G-Dragon and T.O.P. The two are the first ones who have been enlisted.
According to Soompi, G-Dragon and T.O.P. wrote "Flower Road" thinking about their enlistment. This song is said to tell their feelings to their fans about their being away. Also, G-Dragon also took part in composing and arranging the track with the help of Fliptones, who also worked on his and Taeyang's music.
This will be the first time that Big Bang will release a new song after more than a year. This, too, will be a big treat for fans that have been waiting for their enlistment to finish and their reunion to come. It will be released on March 13, the day of Daesung's enlistment and a day after Taeyang starts his military service.
#BIGBANG - 'FLOWER ROAD'

New Single Release
2018. 03. 13.#빅뱅 #꽃길 #FLOWER_ROAD #20180313 pic.twitter.com/CC51KfHsCU

— YG FAMILY (@ygent_official) Marso 10, 2018
Meanwhile, after YG Entertainment's announcement, Seungri also shared the teaser photo of "Flower Road." "How long has it been since the last song? Let's only walk on the flower road," the snap's translated caption from Korean.
In Korea, walking through the flower road means that going on a path "without hardships" that has been laid out specifically for a loved one. So, this might have a connection with the Big Bang members' enlistment.
For the next two years, the group will on a hiatus as they all have to take their mandatory military service. T.O.P. was the first who got recruited on Feb. 9, 2017. He was followed by G-Dragon just this year, Feb. 27.
Taeyang and Daesung are also set to be enlisted on Monday, March 12, and on Tuesday, March 13, respectively. The youngest member of the Big Bang, Seungri, on the other hand, will be left to wait for his recruitment.
© 2019 Korea Portal, All rights reserved. Do not reproduce without permission.