BTS Update: 'DNA' Singers To Sing New Soundtrack For 'Signal,' Won't Be Coming At 2018 iHeartRadio Music Awards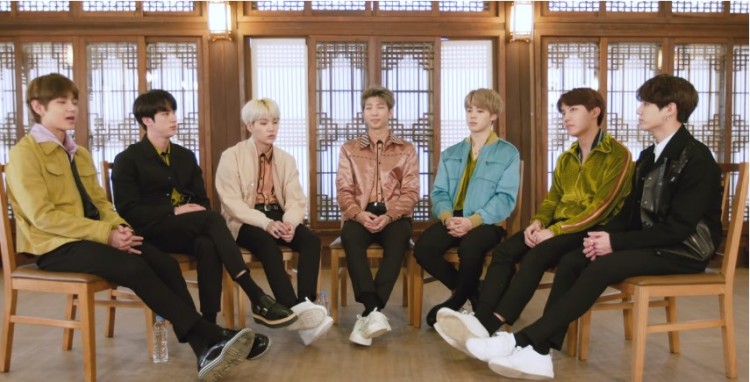 In spite of having two nominations, BTS feels sorry that they cannot attend the upcoming 2019 iHeartRadio Music Awards. The boys are too busy today that they also have to sing their own version of the Japanese remake drama's theme song.
BTS is set to sing Signal's soundtrack, titled "Don't Leave Me." According to Soompi, the song is a "hip-hop track with EDM vibes." It will also be included in the group's third Japanese album that will be called Face Yourself.
Talking about "Don't Leave Me," RM said that this is their first tom sing their own rendition of a drama theme song. "We are honored to participate in the theme song for a drama that was successful in Korea," he said.
He is even proud that BTS has successfully completed a perfect track like this. Jungkook also added that he is hoping that viewers can still focus on watching the show while they are listening to their own version of "Don't Leave Me."
BTS' J-Hope even wished that the Signal's fans will enjoy their song. The Japanese remake of the tvN drama is going to premiere on April 10 on Kansai TV.
Meanwhile, it looks like the ARMY will be left brokenhearted as BTS would not be gracing the upcoming 2018 iHeartRadio Music Awards this weekend in LA. Although there are rumors that the "DNA" singers will be attending the ceremonies, they feel sorry that they could not make it.
BTS is nominated for Best Boy Band and Best Fan Army. However, if they ever win, fans won't see them accepting the awards. In a statement, via Metro, Big Hit Entertainment revealed that the boys can't manage to fly to LA because of their busy schedules.
"We are aware that there is much interest in the iHeartRadio Music Awards," it said. But, BTS is busy preparing for their new album that makes it much difficult for them to leave and attend 2018 iHeartRadio Music Awards.
Big Hit Entertainment also revealed that BTS has been receiving huge support from their fans around the world for their nominations. So, win or lose, they are expressing their sincerest gratitude to their supporters.
The 2018 iHeartRadio Music Awards will take place on Sunday, March 11, at 5 p.m. PT or 1 a.m. GMT.
© 2019 Korea Portal, All rights reserved. Do not reproduce without permission.