'This is Us' Season 2 Finale Old Jack Pearson Will Be At Kate's Wedding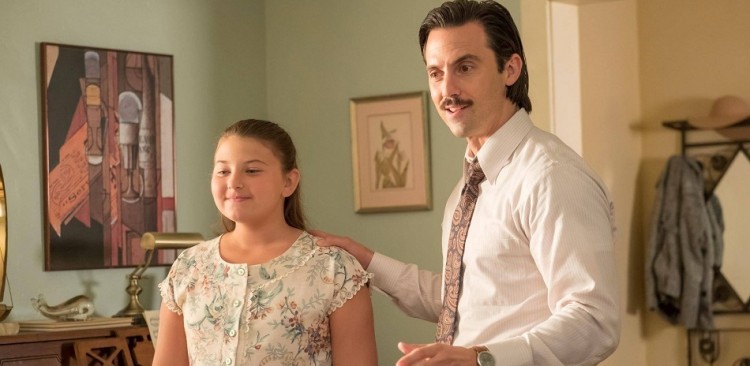 Jack Pearson will appear on This is Us Season 2 finale but not in his usual rugged look. In the conclusion of this season, Papa Pearson will be seen as an old man with gray hair, glasses, and wrinkled skin like his wife.
NBC has released a new teaser that features Kate (Chrissy Metz) and Toby's (Chris Sullivan) wedding. However, there is a particular person in the event that made viewers think if this is another twist in the NBC drama. It looks like Jack (Milo Ventimiglia) will be at the wedding. The only difference of the Jack in the wedding to the Jack that viewers last saw in his death episode is that this one is an old man.
"Where'd the time go, Bec?" old Jack tells present-day Rebecca (Mandy Moore) at the wedding while pushing a piece of hair out of his wife's face.
Once again, it breaks the hearts of many fans as it is common knowledge that Jack is dead. He passed away from cardiac arrest after he suffered from severe smoke inhalation during the house fire when his kids are still in their teenage years. His reappearance at Kate's nuptials could be a vision or a dream by one of his family members.
This is Us Season 2 Finale
This is Us creator Dan Fogelman previously hinted that viewers may see an old Jack this season. In an interview with Glamour, he was asked about possible dream sequences and the likelihood of seeing Jack at Kate's wedding.
"We play with a lot of things around time and memory and what could have been, so I think that's definitely a possibility. There's a lot of emotions [about that idea] because if you've lost someone tragically, you dream about them a lot. There's a lot of different ways that can happen," he teased.
The last episode of the tearjerker drama for this season will also look back on the time when Jack had a heart-to-heart talk to young Kate. Jack tells the young Kate in a flashback that whoever the man she gets to marry will be a lucky guy. Then Kate is seen in the teaser walking down the aisle while both of her brothers - Kevin (Justin Hartley) and Randall (Sterling K. Brown) - at her back.
Meanwhile, the issue brought about by Deja's (Lyric Ross) placement in Randall's home will continue on Episode 18. In the previous episode, Shauna (Joy Brunson) left her daughter under Beth (Susan Kelechi Watson) and Randall's care. It is expected though that Deja's custody situation will finally resolve before the season ends.
This is Us Season 2 finale airs on Tuesday at 9 p.m. ET/PT on NBC.
© 2023 Korea Portal, All rights reserved. Do not reproduce without permission.