Song Joong Ki, Song Hye Kyo 2018: 'DOTS' Actress Shares 'Blissful' Marriage Life, Couple Takes Break From Showbiz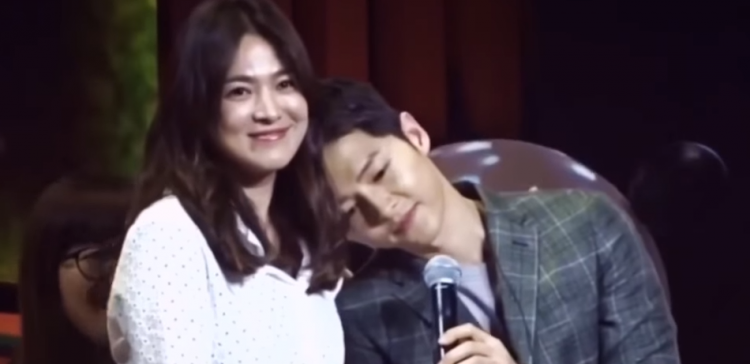 Many fans around the world were shocked when Song Joong Ki and Song Hye Kyo announced their plans to tie the knot last year since the pair had been keeping their relationship under wraps for months. The Descendants of the Sun lead stars have finally exchanged their wedding vows on Oct. 31, 2018. Now, avid followers of the Song-Song couple are wondering how the two South Korean superstars are doing after they wed.
HelloKPop shared that Song Hye Kyo appears to be in a happy place right now. The news outlet shared that the wife of Song Joong Ki is having a ''blissful'' married life based on her posts on social media. As a matter of fact, the publication noted that the Descendants of the Sun actress shared two joyous photos on Feb. 4.
The first snap featured Song Hye Kyo fixing her hair while wearing an oversized sweatshirt sans makeup. The second photograph, on the other hand, showed the wife of Song Joong Ki covering her beautiful face using her sleeve. The news outlet claimed that the cute photos depict how the Descendants of the Sun actress usually starts her day.
It added that these snaps are enough proofs to say that Song Hye Kyo is enjoying the new chapter of her life with Song Joong Ki. It can be recalled that the Descendants of the Sun stars' wedding was considered as the ''wedding of the century.'' The pair first met in 2015.
Meanwhile, Straits Times previously hinted that fans might not be able to see Song Joong Ki and Song Hye Kyo on screen. During a press event in August 2017 in Singapore, the Descendants of the Sun actor was asked if there is still a chance for him and his wife to work on a project together. The 32-year-old South Korean actor stated it might be hard for them to mix their personal lives with their work.
"Working with Song Hye Kyo in the future, I have to give a little more thought. It may be challenging because work is work. It may be a little tough to work on the same production."
Because of this, some fans cannot help but speculate that the couple might take a brief hiatus from showbiz. There were also reports claiming that the Descendants of the Sun lead stars are already planning to start their family. However, neither of the lovebirds has confirmed these speculations. Stay tuned for the latest news and updates about Song Joong Ki and Song Hye Kyo.
© 2019 Korea Portal, All rights reserved. Do not reproduce without permission.