'Avengers: Infinity War' Update: Iron Man, Black Widow's New Suits, Captain America's New Shield And New Villain Revealed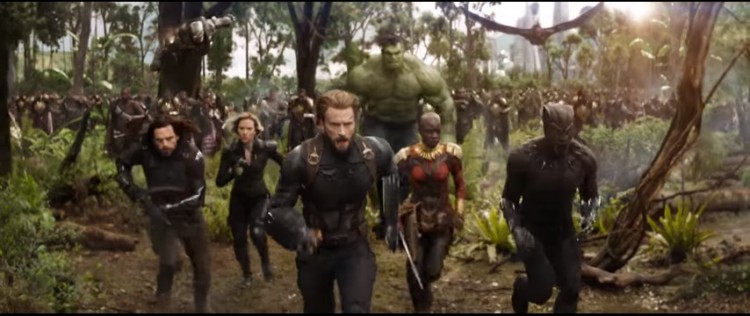 Details about the upcoming Avengers: Infinity War remains scarce after the release of its first trailer. But, little teasers about the movie are now emerging regarding Iron Man (Robert Downey Jr.) and Black Widow's (Scarlett Johansson) new look, and Captain America's (Chris Evans) new shield.
In a new promotional snap shared on Reddit, Tony Stark has two new kinds of Iron Man suit. One has a bionic arm while the other has a pair of wings. As seen in a shot from the Super Bowl TV spot, it looks like Iron Man's arm is missing, thus he needs a bionic arm upgrade, Game Spot reported.
Black Widow, on the other hand, now has a new green costume that quite pairs Hulk's (Mark Ruffalo) color. The photo also showed Captain America's new shield that is now black and has spiky stuff on it. It is also a little smaller compared to his usual round shield. Also, he is now holding two shields for each of his hands for Avengers: Infinity War.
According to Digital Spy, there is a purpose why Captain America now has two shields. This might give him a better self-defense when facing their enemies and, of course, Thanos (Josh Brolin). Also, fans might see new action moves from him as he fights their opponents.
And although his spiky shields look unusual compared to his round red, blue, and white shield, it might have a lot of defense that it can do. This is especially because it is made in Wakanda that is known to create the best-advanced technology in the Marvel universe.
Meanwhile, the Avengers: Infinity War merchandise teased a new villain coming in the film. Aside from Thanos, Iron Man, Black Widow, Captain America, Hulk, Thor (Chris Hemsworth), Doctor Strange (Benedict Cumberbatch), Vision (Paul Bettany), and the rest of the group have a new enemy to face.
The new promotional mug revealed Thanos is with the evil Black Order and a new mysterious bad guy. Although it is now yet revealed who he really is, there are theories that he could be Warbringer, a Chitauri warlord that was first featured in Marvel's Nova comic's 2015 issue.
Avengers: Infinity War is set to be released on May 4 in the U.S.
© 2022 Korea Portal, All rights reserved. Do not reproduce without permission.