Sam Heughan, Caitriona Balfe News: Pair Surpises Fans With Steamy 'Outlander' Season 4 Scenes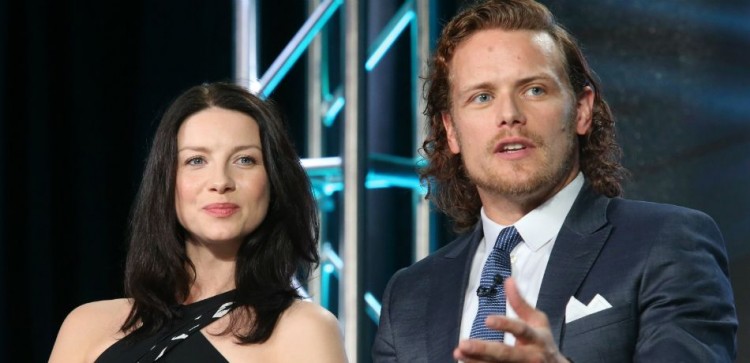 Outlander Season 4 couple, Sam Heughan and Caitriona Balfe are preparing for their steamy and insane scenes for the phenomenal TV series.
In a report from Express, Sam Heughan and Caitriona Balfe are currently working on their steamy scenes for the upcoming Outlander Season 4. The former Victoria's Secret model even revealed some insane information about her character, Claire and Jamie's romance in the fourth season of the hit Starz series.
The beautiful actress appeared on The Late Late Show to discuss the life, the relationship and steamy sex scenes of Claire and Jamie (played by Sam Heughan). The show's host, Ryan Tubridy asked Caitriona Balfe about her point in stating, female perspective raunchy versus male perspective raunchy.
"Well I don't know if raunchy is the right word," Catriona Balfe answered. The Outlander Season 4 actress revealed that she never tried to discuss her typical, intimate TV scenes, as she and Sam Heughan don't want to have "sexplanation" about what they have done.
"But you know, I obviously read the first book before I got the show and when I sat down with Ron D. Moore he was very interested in telling a love story and any of the sex scenes from a female perspective," Caitriona Balfe added. The leading lady of Sam Heughan also believes that the intimates scenes are integral to make the show and story successfully. Perhaps, this is the reason why their chemistry works all the time, especially when they have intimate scenes together.
In the meantime, Caitriona Balfe seems to be keeping her body fit and beautiful for her romantic and steamy scenes with Sam Heughan. The Scottish Sun revealed that she is looking up to Heughan when it comes to her workout routines. She said that Heughan is her go-to point for tackling the epic race. Balfe will be joining the London Marathon event on April 22.
Sam Heughan and Caitriona Balfe's Outlander Season 4 will not be released until later this year.
© 2023 Korea Portal, All rights reserved. Do not reproduce without permission.