K-Pop Girl Band Stellar Disbanded, Minhee Shares Members' Plans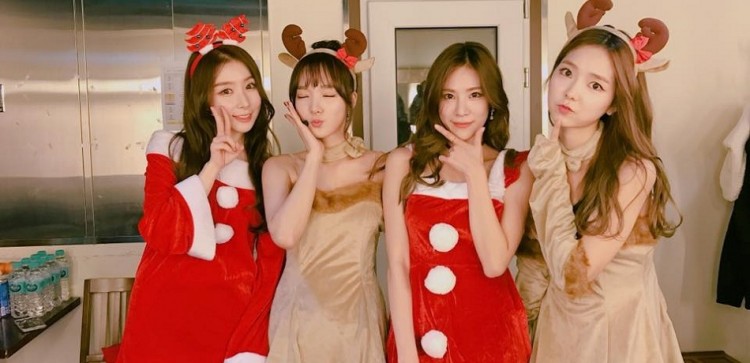 The Korean girl group Stellar has officially disbanded. The ladies have been working together for eight years and have gone through some controversies and changes in their lineup along the way. The disbandment is expected but their fans are still hoping that they would see the girls even on a different platform.
Stellar's label company Entertainment Pascal officially announced on Monday that the band members' contracts have ended and they decided not to renew their contracts. Since all of the girls except Soyoung have left the label, the group is expected to be disbanded. Soyoung was only introduced as a new member of the group in April 2017. Minhee and Hyoeun's contracts expired earlier this month and they decided not to renew their contracts.
Stellar's Message to Fans
Stellar held a fan meeting in Seoul over the weekend and it was attended by Minhee, Hyoeun, and Yeounghun and former members Gayoung and Jeonyul, Soompi reported. Following the announcement of disbandment, Minhe clarified that there is no bad blood between the members of Stellar. She stressed that they remain very close even they are no longer a band.
She also stated that Jeonyul and Gayoung were looking to try acting. She and Hyoeun, on the other hand, have not decided what they were going to do yet but Minhee said she would like to try acting too. The Stellar member added that she will also think of ways on how she can continue to update her fans through social media. Meanwhile, she also wrote on Instagram a letter to Stellar fans, also known as the Twinkles.
"I thought this moment would be in the far future, but time has already passed this much ... Looking back, the moments with Twinkles will forever become unforgettable memories. Now, Stellar will go our separate ways, I will try my best and show better sides of myself as Joo Minhee, not Stellar's Minhee now, so please give lots of support. My members that have given me lots of strength, Twinkles, I have been so so thankful and happy. I will really cherish the unforgettable warm love. I love you Twinkles,"," she wrote on Instagram as translated by Soompi.
Stellar's Beginning
Stellar was launched in 2011. Their debut song, "Rocket Girl," was unsuccessful. A year later, two members of the group, Yiseul and Joa, left. They were replaced by Minhee and Hyoeun for the release of Stellar's next track "UFO." The group then decided to transform from their cute persona to sexy. Unfortunately, the plan did not go well as they hoped.
In July 2013, Stellar released their third digital single, "Study" but like the two previous two tracks, it did not reach the top 100 chart too. The same year, rumors have emerged that Stellar will be disbanded but the group stayed together. In April 2017, a new member, Soyoung, was introduced. However, both Gayoung and Jeonyeul left when their contracts expired on August 23, 2017. Two days later, Stellar announced the addition of new member, Youngheun.
Stellar Amidst Controversies
In 2014, Stellar released their first extended play, "Marionette." The group received a backlash for their promotional material on social media. In the promo ad, which was called by some as "stripping game," fans could "like" the posts on the band's official Facebook page to reveal photos of the members' body parts.
The group was further criticized for their "Marionette" music video. Despite the controversy, "Marionette" became Stellar's best selling single. The following year, Stellar released yet another controversial single, "Vibrato," and its music video. The band explained that their revealing outfit and sexy music video were just an expression of their unique identity.
© 2019 Korea Portal, All rights reserved. Do not reproduce without permission.