Eminem's New Album Wrecks 'River'; 'Revival' Most Streamed on Spotify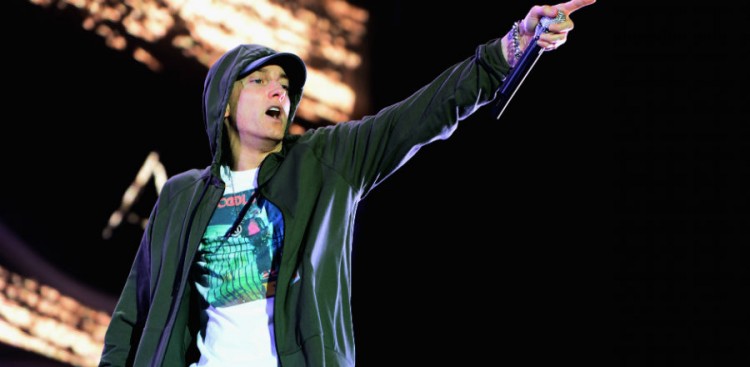 Eminem surprised his fans when he suddenly released his "Revival" music album. After months of speculations, he finally gave his dedicated followers new music to listen to. Recently, the "Rap God" rapper released the "River" video which shows him playing a role of a home wrecker.

Eminem shows how much life and love could change so sudden in his "River" music video. The "Till I Collapse" rapper's collaboration with Ed Sheeran is not a cheesy one even though it was released on Valentine's Day.

It seems like Em's "River" video tries to address domestic violence through several grainy scenes and reality-show-style interviews.

"My personal life is not exactly a highlight reel," Em says at one point, alluding relating to his tempestuous relationship with his ex-wife, Kim Mathers. Some scenes depict an argument between the "Cleaning Out My Closet" rapper and a lover over whether to continue an unwanted pregnancy.

On the other hand, several men and women are turning to Eminem's songs while they workout. One of the most favorite tracks from Em is "Till I Collapse." The song was released in 2003 featuring Nate Dogg. It was also used as a soundtrack for the hit movie, "Real Steel."

According to Vulture, the song has been released more than 400 million times on Spotify. It has a beat that resembles the stomp-stomp-clap beat from Queen's hit song, "We Will Rock You." It's a song that reveals how Eminem feels about his own music.

"When I am lifting, the last thing I want is anything too upbeat or poppy, so anything by Eminem works great for helping to maintain focus, get a little aggressive, and keep pushing myself," a U.K.-based trainer Mike Samuels said in an interview with Vulture.

In support of his "Revival" album, the 45-year-old rapper will headline in several festivals this summer, such as Bonnaroo, Coachella, and the Governors Ball as per Entertainment Weekly.

There's no doubt that Eminem is still one of the best rappers globally, as "River" sits in the Hot 100's most recent edition.
© 2023 Korea Portal, All rights reserved. Do not reproduce without permission.