BLACKPINK Update: 'Black Pink House' New Episode Shows Doing Their Mini Olympics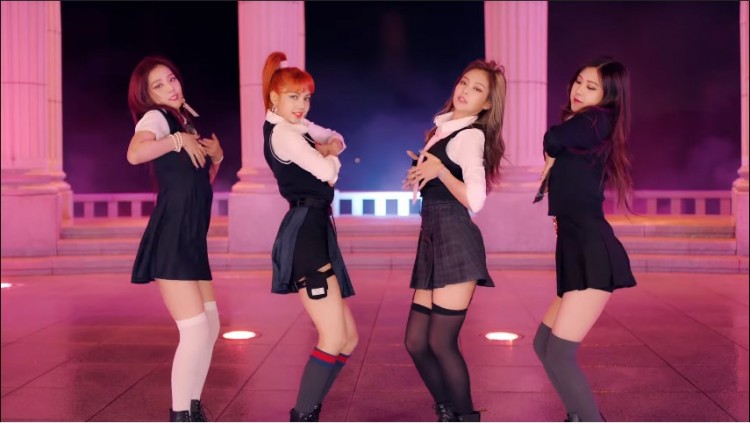 BLACKPINK members made their own mini Olympics in the recent episode of Black Pink House. Lisa, Rose, Jisoo, and Jennie definitely had fun as they tried different kinds of sports and even making their own music video.
The four girls were divided into two groups. Lisa and Rose were teammates as they tried their luck with archery. Jisoo and Jennie, on the other hand, did handicrafts by creating do-it-yourself accessories like bracelets.
Lisa then lost a bet against Rose, thus she had to pay for their meal. The two went to a Vietnamese restaurant, enjoyed and warm themselves with a hot bowl of pho.
However, Jennie and Jisoo didn't stop on making accessories as they also tried roller skating. They were, evidently, having the time of their lives as they were making fun of each other. They were doing their best to balance themselves, but they didn't succeed.
As they fell, they just laughed about it, while they were being surrounded by little kids. They also questioned themselves on how they managed to film a roller skating scene perfectly in the official music video of "Boombayah." With that, they just created their own music video as Jennie played as the camera director.
Of course, Lisa and Rose won't back down as they, too, took a crack at trampoline gym. They were also having a hard time to balance themselves while doing trampoline that they got exhausted and lose their strength.
But, Lisa still showed her talent by dancing a part of "Boombayah" to impress their trainers, although her long legs were getting on the way.
Meanwhile, Black Pink House is the proof how famous BLACKPINK girls are all over the world. In fact, its first episode got more than 10 million views in five days, All KPop reported.
Fans had waited to see its first episode in January and it was described to be full of love from the girls and fans. Black Pink House can be seen on BLACKPINK's YouTube channel with every episode airing on Saturdays at 9 pm. It is also being broadcasted by JTBC2 every Sunday at 10 am.
© 2022 Korea Portal, All rights reserved. Do not reproduce without permission.