'Game of Thrones' Season 8 Update: Maisie Williams Teases Something Big Will Happen To Arya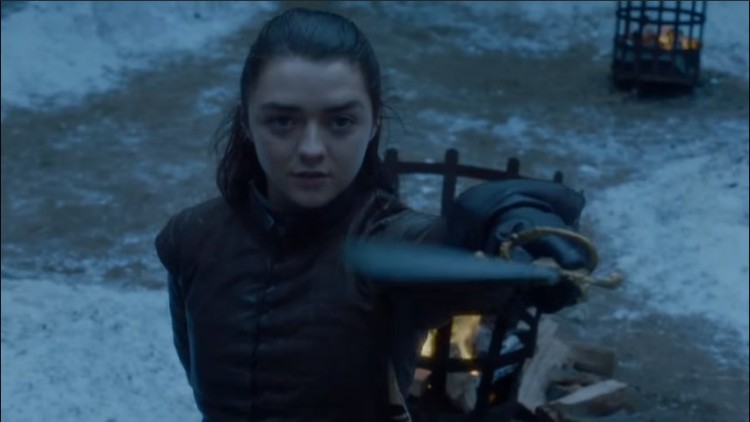 One of the much-awaited scenes fans want to see in Game of Thrones Season 8 involves Arya Stark (Maisie Williams). In fact, in an interview, the 20-year-old actress teased that something big is about to come for a "girl who has no name."
According to Daily Express, the Early Man star is taking stunt classes for her sword and combat fighting scenes in Game of Thrones Season 8. She even revealed that she can do any moves she likes as her trainers have big pads on them to protect themselves.
It has been known that Arya wanted to be great in sword fighting ever since Game of Thrones started. It was even fueled when Jon Snow (Kit Harington) gave her Needle. She also had training sessions with Syrio Forel (Miltos Yerolemou) in Season 1 and had faced the Faceless Men in Season 6.
Previously, she even asked Brienne of Tarth (Gwendoline Christie) for a one-on-one battle when she returned in Winterfell. So, there are assumptions that Arya is preparing for something big in Game of Thrones Season 8.
A girl with no name might join the Great War to fight the Night King (Vladimir Furdik) and his under army. If truth be told, Williams revealed that she has been filming mostly at night. She is already done with the week-four shots of the 12 weeks night filming.
"It's just huge. The task is huge. But, there's no better way to leave the show, to be honest," she teased.
Meanwhile, fans also want to know what would be the future of Arya and Sansa Stark's (Sophie Turner) relationship in Game of Thrones Season 8. As the two sisters started with a sibling rivalry, a lot of viewers thought that she would kill the acting Queen of the North.
Well, Williams admitted that she also thought that she had to kill her sister when reading the first scripts of Game of Thrones. "I guess for a minute I thought, 'Maybe'," she told Metro. However, she then realized that it should never happen as it would cause an uproar from fans. Fortunately, the two reconciled in Season 7 and killed Littlefinger (Aidan Gillen) for breaking them apart and committing a lot of mistakes to the Stark family.
HBO has yet to announce the official release of Game of Thrones Season 8, but it is set to return in 2019.
© 2019 Korea Portal, All rights reserved. Do not reproduce without permission.