'Outlander' Season 4 Update: Starz Shares Sweet Video Of Caitriona Balfe And Sam Heughan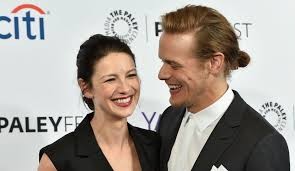 Fans are now waiting for the coming of Outlander Season 4 on the small screens. And as Starz has yet to reveal the show's official release date, its social media pages are treating fans with video clips and pictures of Caitriona Balfe, Sam Heughan, and other behind-the-scenes clips.
To celebrate the recent Valentine's Day, Starz shared a clip of Balfe and Heughan, talking about their characters as Claire and Jamie's sweet gestures to one another in Outlander on Twitter. While remembering what her role's sweet deed for her on-screen partner, the Scottish actor interrupted and said that it was giving him a child.
The 38-year-old Irish star was definitely moved of Heughan's answer and said that it was "really sweet." On the other hand, the Young Alexander the Great star recalled the most romantic moment Jamie did for Claire. "He's given her a pearl necklace," he said.
However, Balfe suggested a different thing, saying that it was when he gave her a lovely bath. She even described it to be "pretty romantic." Heughan explained that Jamie has given Claire a lot of things, but it was the pearl necklace that touched him the most as it was from his mother.
Our #Outlander cast + talk of romantic gestures = ALL THE FEELS. Happy #ValentinesDay, clan! pic.twitter.com/CcIaFPsh1O

— Outlander (@Outlander_STARZ) February 14, 2018
Later, Balfe got pretty romantic when she said that the sweetest thing Jamie gave Claire is his love.
Moreover, as Outlander Season 4 is currently in production, fans are sharing a glimpse of their favorite stars while filming in Glasgow, Scotland. Balfe was seen enjoying her lunch break, while Richard Rankin was also seen wearing a knit hat while portraying his role as Roger Wakefield.
Other Native American stars joining Outlander Season 4 were also in the scene. The onlookers also saw the set of Mrs. Baird's Bed & Breakfast and a glimpse of Fraser's Ridge before it was brought down.
Meanwhile, fans are about to meet a new villain gracing Outlander Season 4 after the death of Black Jack Randall (Tobias Menzies). Although it is not yet revealed who it would be, there are swirling rumors that it could be Stephen Bonnet.
Outlander Season 4 is expected to return this fall on Starz.
© 2023 Korea Portal, All rights reserved. Do not reproduce without permission.