Billboard Releases BTS Limited Edition Magazine Box Set, Single Issue Sold Out In A Few Hours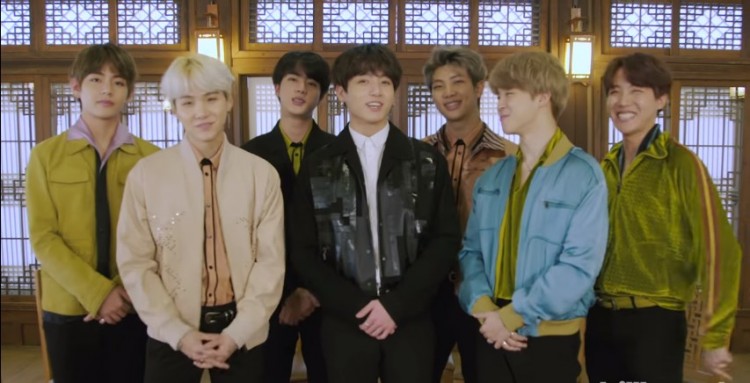 BTS has graced the cover of Billboard magazine and it doesn't just come in a single publication, but a limited edition box set. Fans now have a reason to celebrate as there will be eight full-size posters and eight different covers featuring each member of the group.
Billboard revealed in a tweet that it would be releasing a BTS box set on Wednesday, Feb. 15. Of course, the ARMYs are all excited to get their own copies of the glossy magazine.
In fact, the single issue with all the members of the BTS on the cover got sold out in a just a few hours, All KPop reported. Billboard reportedly revealed 17,000 copies, but it is still not enough for all the fans. So, supporters of the group are looking forward to the publication to publish new copies.
Aside from the magazine cover, Billboard also treated the fans with BTS interview video. Here, the boy band talked about their favorite films, their motto in life, and other things that they have done while doing the cover shoot.
Evidently, K-Pop has entered America's music scene. The country's pop music has changed over the years and now embracing different genres from different countries.
BTS stars in Billboard package featuring 8 different covers

A first for us! We are selling BTS limited-edition box sets, featuring 8 full-size posters and 8 different covers feat. each member, all in a custom box! #BTSonBillboard https://t.co/tHnAh9aTfh pic.twitter.com/FF3AkitYrr

— billboard (@billboard) February 15, 2018
Billboard went out of their way to make this limited edition box set happen. If truth be told, it traveled far back to Seoul for BTS' first-ever American cover shoot. Truly, BTS has carried the K-Pop fandom to America, and to celebrate this, each member has been given with a standalone cover.
Meanwhile, BTS' rise to stardom surprised everyone, including their own country - Korea. The group started in 2013. After three years, they incredibly went famously known with their hit singles like "Blood, Sweat, Tears" and "Burn It Up."
BTS is also the first major group from a not-so-big entertainment company, the BigHit Entertainment. It has been known that YG, JYP, and SM are the ones that are controlling Korea's music scene, producing well-known groups like Big Bang, Super Junior, 2NE1, and more.
So, it might be refreshing for the Korean music fans to have BTS around. Supporters of the group that want to try their luck to secure a copy of the limited edition magazine could visit Billboard.com.
© 2021 Korea Portal, All rights reserved. Do not reproduce without permission.