Brown Eyed Girls Not Disbanding, Narsha Assures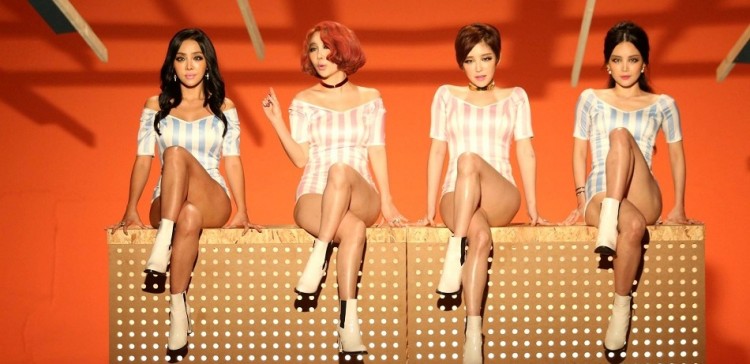 Brown Eyed Girls member Narsha has denied speculations that the squad is disbanding. She admitted that the speculations about their disbandment might be because of the delay in the release of their next album. Narsha assured that it is not happening. She also promised to work harder so they could finally release their new album this year.
Narsha served as an award presenter at the 7th GAON Chart Kpop Awards which was held at Seoul Jamsil Stadium on Wednesday. She took the time to debunk rumors about the band's split and instead hinted of their comeback. The four-member South Korean girl group has so far released seven albums as a group. The last of which was in 2015.
"Brown Eyed Girls' album release keeps on getting delayed. That's why many people assumed that we broke up but we didn't disband yet," she said as quoted by AllKPop. "We're all focusing on our individual activities but we will do our best to release a Brown Eyed Girls' album within this year," Narsha added.
Brown Eyed Girls' Disbanding Rumors
Speculations that the members of Brown Eyed Girls are splitting up is not new to fans since the B.E.G. members - Narsha, JeA, Miryo, and Gain - have been together for more than a decade. In 2016, Brown Eyed Girls has been named as the first KPop band that hasn't changed members since they were formed. Brown Eyed Girls was launched in 2006.
In June 2017, Narsha expressed sadness over the series of band disbandments in the KPop world. She also voiced her desire to stay with her group. Narsha also hopes that she and her bandmates could stay longer together.
"I don't know what we will be doing in the future, but we want to maintain the Brown Eyed Girls team. We all agreed that we can individually do different things, but we want to preserve our precious team forever," Narsha said at the time.
Brown Eyed Girls' Miryo Solo Comeback
Rumors of Brown Eyed Girls split came to light once again after Miryo released another album this week. It is the second part of her three-part album series, Dreams Come True. Although the band members have been doing solo projects in the past, this latest one made fans thinks if the group will reunite.
Miryo's album, titled Come, was made available on Tuesday. The album contains two tracks - "Can I See You Again" and "What Did He Say". The first track, "Can I See You Again," was written by Miryo herself along with Brand New Music producer 9999. The theme of the album cover teaser is similar to Miryo's Dreams album, which was launched in November 2017. As to the other members of the band, they probably busy finishing up the group's upcoming album.
© 2019 Korea Portal, All rights reserved. Do not reproduce without permission.