'This Is Us' Season 3 Features Rebecca-Miguel Romance, Jack is Coming Back [Spoilers]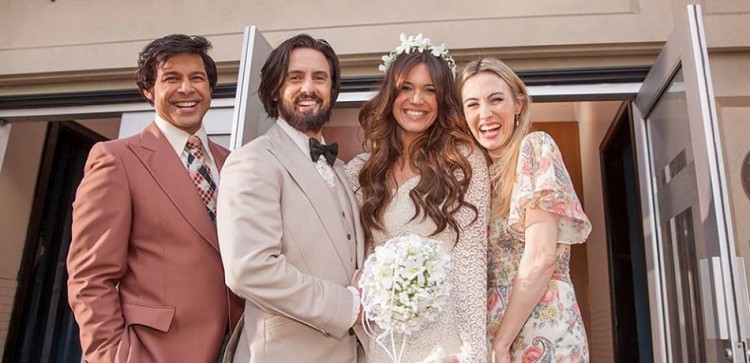 This is Us Season 3 is expected to be a tear-jerker like the two seasons of the show. More details about the Pearson family will be revealed in the third installment while Rebecca's relationship with Miguel will be explored further. Jack is also set to return in Season 3.
Miguel (Jon Huertas) has very limited screen time in This is Us Season 2. Most of his appearances feature some unpleasant exchange with No. 1, Kevin (Justin Hartley). Although Jack (Milo Ventimiglia) has been dead for years, the Big Three - particularly Kevin - still have some reservations about their mom's husband.
There are also viewers that still have feelings of animosity towards Miguel. That changed a little this season after it was revealed that Miguel did not cause Jack's death or even the falling out of his marriage to Rebecca. In fact, the Pearson matriarch only got reconnected with Miguel when she decided to have a Facebook account, 10 years after Jack's death.
The perception about Miguel will further change in the upcoming season of the NBC hit drama. In an interview with Huertas, he teased that in the last three episodes of Season 2 and when the show returns for another season, viewers will gain more insights on how Miguel and Rebecca's relationship. He admitted that there are people who still need more convincing that Miguel is a good guy.
"This season we've got some cool stuff coming up. In the next season, we really open it up ... There are still some people that still need some convincing," Huertas said.
What to Expect in This is Us Season 3?
Since the show jumps to several timelines, anything could happen in the upcoming season. So far, one thing is sure - Jack Pearson will still appear in Season 3. Ventimiglia has hinted that there are more Jack stories that need to be told in the upcoming season.
Miguel's backstory might be featured in Season 3 as well. Fans have known that he is Jack's BFF. However, no one knows what happened to him after Papa Pearson died.
Another storyline that could be explored in Season 3 is the life of newlyweds Kate (Chrissy Metz) and Toby (Chris Sullivan). Based on the sneak peek for Season 2 Episode 16, the two will have their respective pre-wedding parties which means the wedding is still on despite Kate's miscarriage. Kevin's (Justin Hartley) recovery from drug addiction might also continue in the next season as well as Randall (Sterling K. Brown) and his family's life adjustment with the new addition to the family, Deja.
This Is Us Season 3 Release Date
NBC has yet to make an announcement on the release of This Is Us Season 3. It is likely to kick off in September 2018.
NBC has yet to release a teaser for Season 3. Tune in on this page for the latest news about This Is Us Season 3. Meanwhile, This Is Us Season 2 returns on February 27 at 9 p.m. ET/PT on NBC.
© 2023 Korea Portal, All rights reserved. Do not reproduce without permission.