BTS Revealed, They Learned English Watching Friends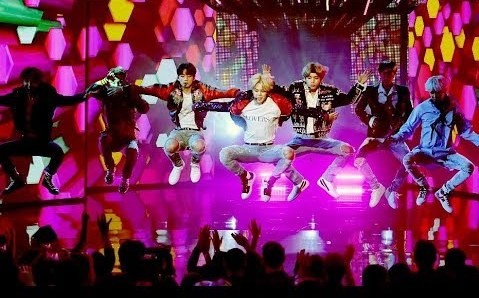 Just after their awesome performance at the American Music Awards, K-Pop superstars BTS has made their daytime talk show debut on "The Ellen DeGeneres Show" this week to perform their song "Mic Drop" and talk about the international fame. However, while the band was joined by a translator, but frontman RM, who is also known as Rap Monster, has revealed to Ellen that he actually taught himself English in the most relatable way, which is by watching TV series Friends.
As reported by Huffington Post, RM has revealed that his English teacher was a sitcom "Friends." "Back in the days when I was like 15, all the Korean parents [made] their kids watch Friends. I thought I was kind of like a victim at that time, but at present, I'm the lucky one."
According to the Cosmopolitan, the BTS fan group, termed as the A.R.M.Y., also has to thank RM's mom since it was her idea to provide him the Friend's DVDs. RM said, "Thanks to my mother, she bought all the season DVDs. It's got 10 DVDs." Firstly, he watched with the Korean subtitle, and the next time RM watched the FRIENDS with the English subtitle, and then he just removed it.
During the show as a treat for RM, Ellen has surprised him and the rest of the BTS group with an abundance of Friends merch from the NBC team. As the rest of BTS group speak Korean and aren't as fluent as RM in English, a translator was there to help out.
V. relatable! V. studious! Who knows where the BTS band would be without the show?! Actually, they'd almost certainly be just as successful because they're perfect. BTS had awesome exposure in the west because of their flawless performance at AMAs. However, the success of their latest release MIC Drop Remix can be heard in the latest headlines.
© 2019 Korea Portal, All rights reserved. Do not reproduce without permission.