BTS Meet With Steve Aoki Ahead Of "MIC Drop" Remix Release
by
Sanjana
/ Nov 24, 2017 10:54 AM EST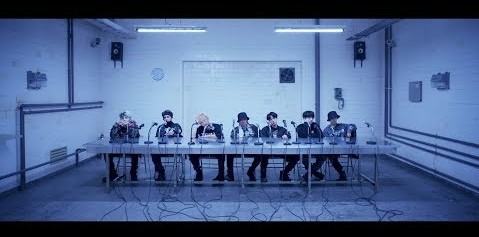 BTS and Steve Aoki are two of the finest performer in Kpop. They both are collaborating for the new "MIC Drop" remix. The release of the track is just around the corner and the DJ had to post a few videos of his meeting with the K-pop group on Snapchat.
The shared footage starts out with leader RM telling Aoki that they saw his "music video," referring to the teaser for the "MIC Drop" remix, which will release on November 24, as per All Kpop. In the video, Jin jokingly makes the electro house musician at his DJ booth. "That set was sick," Aoki said. "I don't know if you saw the ceiling, but it was changing colors."
However, when the DJ shows the boys a tattoo which says "I'll sleep when I'm dead," he jokes that his next tattoo will be for "MIC Drop." RM says him that the BTS has listened to his remix. Then the leader reveals that BTS will perform the remix on The Ellen DeGeneres Show on November 21, airing on November 27. "So it's going to be everywhere," RM continues. Suga has snitched on his members, translating to Aoki that they were sweetly calling him "uncle" in Korean, according to Billboard.
Both acts have followed up their get-together by expressing each other love on social media. Earlier this month, Aoki has told in an interview that the BTS members are geniuses and are so creative on every level. The DJ also said that "on their dance, on their sound, on their style, their flow, creatively musically, creatively on the fashion tip."
The two acts firstly crossed paths, when BTS won the Top Social Artist award at the Billboard Music Awards. That win increased the septet's energy in the United States, resulting in their historic and amazing performance at the American Music Awards on Sunday as the first K-pop group to grace that stage.
© 2018 Korea Portal, All rights reserved. Do not reproduce without permission.