SHINee's Taemin Declares Love Affair With Jokbal (Pig's Trotters) on 'Wednesday Food Talk'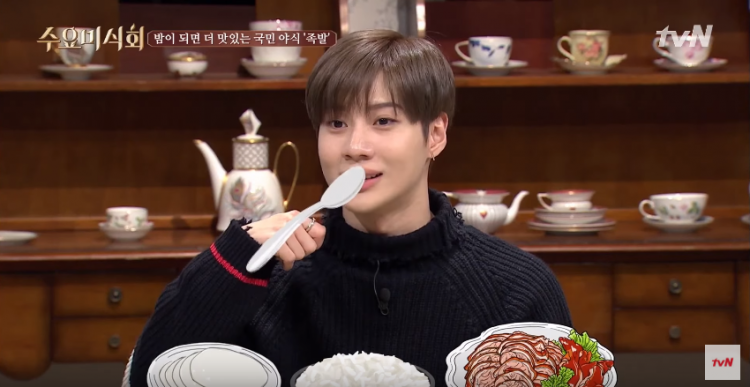 SHINee members Taemin and Jonghyun were featured on the November 22 broadcast of tvN's "Wednesday Food Talk". The episode turned out to be entertaining and baffling as Taemin declares his love affair with marinated pig trotters, also know as "jokbal".
The bewildered host, Jun Hyun Moo revealed that Taemin ate "jokbal" until 2 AM prior to the shoot. "Whenever it's a company party, it's always jokbal," the MC shared, "It drives me crazy."
Jun Hyun Moo questioned "jokbal" in front of Taemin, he asks, "I said why is it always jokbal? Why not samgyupsal (pork belly) or galbi (beef short ribs)?" According to him, the answer is because one can eat "jokbal" right away when it arrives.
According to All Kpop, Jokbal lover, Taemin, confessed he's been eating "jokbal" three times a week for the past four months. Revealing his "jokbal" eating record, the performer added, "I eat it with rice replacing side dishes with jokbal."
SHINee's Jonghyun justified Taemin's love affair with "jokbal" by commenting, "If Taemin is hooked on something, he eats it until he gets sick of it."
SHINee fans are happy to see Taemin and Jonghyun on air. Earlier this year, SHINee released their fifth Japanese studio album, "Five". The album was dropped digitally in Japan on January 27, 2017.
The boys participated in 2017 "SM Town Live World Tour VI" in Korea and Japan. On the other hand, Taemin successfully held his first concert as a solo artist in Japan last July titled, "Taemin The 1st Stage Budokan". He took the stage performing "Tiger", "Danger", "Drip Drop", and "Press Your Number".
According to Kpop Herald, the live broadcast of "Taemin The 1st Stage Budokan" via Line Live reached 320,000 viewers worldwide at one point. The Budokan arena in Tokyo was filled with 28,000 fans. Watch the playful "jokbal" clip of Taemin on "Wednesdays Food Talk" below:
© 2023 Korea Portal, All rights reserved. Do not reproduce without permission.