Lovelyz Share Experience in Recording their Latest Upbeat Song 'Twinkle'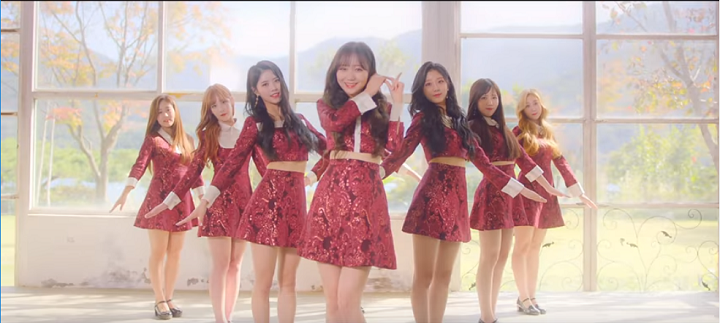 All female idol group, Lovelyz, confessed recording their latest upbeat track "Twinkle" was a challenging experience. At the group's comeback showcase for their new album "Fall in Lovelyz" on November 14, the girls shared their experience in the studio while recording their recent song.
According to All Kpop, the girls commented, "We think this song ("Twinkle") will show you a new color from Lovelyz than you're used to." Soojung added, "Different than Yoon Sang's songs, there are some strong points that made it difficult to record." Soojung is pertaining to the production team, One Piece, who's handling most of the girl group's past title tracks.
On November 16, the charming group sat down with SBS Power FM's "Cultwo Show" together with Shinhwa's Dongwan. Baby Soul from Lovelyz shared the meaning behind the title, "Twinkle", which is a representation of the jingle bell sounds ringing in lovers' ears. She added, "I haven't heard it yet, but I hope to hear it soon."
Baby Soul revealed that they consider "Twinkle" as the most upbeat track they have released so far as it is similar to a Christmas carol. She also admitted that this track is more exciting than 'Ah-Choo'.
Lovelyz is the first female idol group by Woollim Entertainment. The group formed in 2014 with eight members: Baby Soul, Jiae, Jisoo, Mijoo, Kei, Jin, Sujeong, and Yein. In the same year, they also released their debut album, Girls' Invasion, reported by The Korea Herald, despite being the target of a number of nasty online gossips.
In 2015, their debut album was re-released as "Hi~" adding two new songs plus their lead single with the same name. They have released 9 music videos and have headlined two concerts. Even though Lovelyz' image has been tainted in their early years, the group received a variety of nominations from 2015 to 2016. Since 2014, the girl group has bounced back in a cheerful manner and continues to spread their charm all over Korea.
© 2023 Korea Portal, All rights reserved. Do not reproduce without permission.