Netflix Stops 'House Of Cards' Production After Kevin Spacey Sexual Misconduct Allegations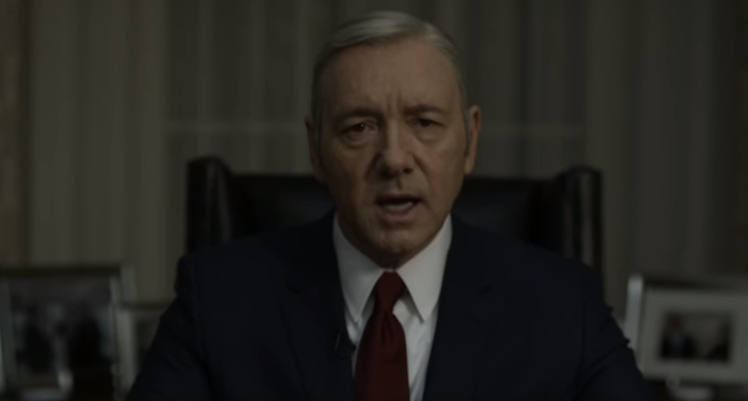 Season 6 of the award-winning political drama "House of Cards" is in danger of getting canceled. In a statement, Netflix said production for the show's upcoming season has been stopped in light of the allegations against its main actor Kevin Spacey. Spacey is currently embroiled in a sexual misconduct scandal after Broadway veteran Anthony Rapp accused the former of making untoward advancements against him when he was 14. Spacey has since apologized and then came out as gay.
The statement, which Netflix made with co-producer MCR, read, "MRC and Netflix have decided to suspend production on House of Cards season six, until further notice, to give us time to review the current situation and to address any concerns of our cast and crew."
The allegations first surfaced on Sunday, October 29, courtesy of a Buzzfeed interview. Rapp said Spacey made an unwanted sexual advance when he was younger at a party. Rapp, who popularly acted in the Broadway and the film version of "Rent," said a drunk Spacey lifted him and placed him on the bed and laid on top of him. Rapp then said he was able to "squirm" out of Spacey and escaped to the bathroom. After composing his thoughts, Rapp said he stepped out of the bathroom, declared that he was going home. Spacey allegedly questioned him if he really wants to leave.
Spacey, who has since apologized to Rapp on Twitter, lost a lot of support for his coming out as many thought it was a strategy to cover up his act against Rapp. Moreover, Spacey's coming out was called out reinforcing a dangerous gay stereotype. Spacey or his camp has yet to respond to the new round of comments.
Meanwhile, the fate of Season 6 is not known, as Season 5 ended with Frank Underwood (Spacey) facing prosecution and Claire Underwood (Robin Wright) getting elected as America's first lady president. Should Netflix decide to resume and conclude the show for one final season, a possibility is that the focus will be more on Claire coming into her own as president and Frank could be possibly killed. Until then, fans would have to wait whether Season 6 would even still be happening.
© 2018 Korea Portal, All rights reserved. Do not reproduce without permission.