TWICE's 'Likey' Comeback Single Goes to the Top of the Charts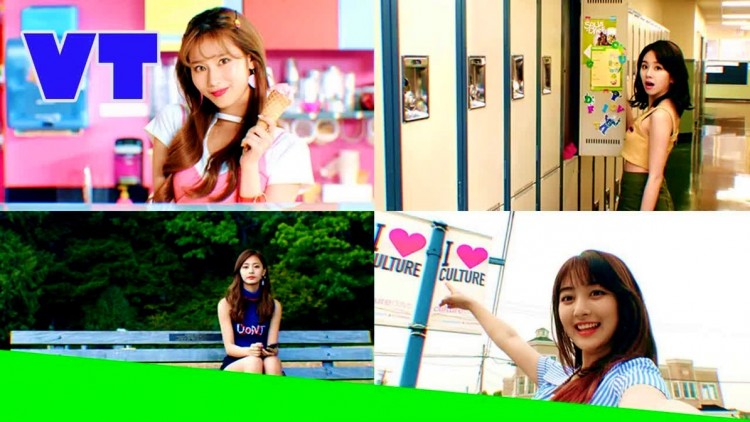 The much-awaited TWICE comeback is here with the release of the bubbly pop number "Likey" and new album "TWICEtagram." The single and album have quickly made an impact on the Korean music charts, in addition to popularity blitzes on YouTube, Naver search, and Twitter's trending terms.
TWICE's "Likey" music video has been released on YouTube, you can watch it below. The MV has a strong selca ("selfie") vibe with the TWICE members often posing as if someone is taking their pictures. Jihyo does pick up a video camera at the start of MV, and some of the shots are clearly taken by Jihyo with the cam.
The "Likey" YouTube video achieved 500,000 views within hours of the MV's release, and it may be a lot higher by the time you're reading this. TWICE is one of the most popular K-pop girl groups of the day, so the success of the single and MV isn't a surprise. But it's still a remarkable phenomenon. Meanwhile, TWICE's "Like OOH-AHH" MV has gotten over 199 million YouTube views since its release in October 2015.
[!] #TWICE #트와이스 LIKE OOH-AHH MV has already surpassed 199M Views! Let's hit 200M Views before #LIKEY MV release!https://t.co/na7IzjdTL6 pic.twitter.com/T318bEbI8t

— TEAM TWICE #LIKEY (@TEAM_TWICE) October 30, 2017
"Likey" sounds like a hit, suggesting that the group isn't simply coasting on its popularity. Soompi reports that TWICE collaborated with Black Eyed Pilseung and Jeon Goon for the "Likey" track, which is a vibrant electro-pop number that pumps up listeners with an EDM-style beat drop right before the chorus. Soon after the comeback release, "Likey" and other "TWICEtagram" album tracks began charting. TWICE Charts shows that "Likey" immediately took the number one spot on three major music charts while making it into the top five of the other charts.
#LIKEY — 7PM KST: #1 Naver #1 Genie #1 Bugs #3 MelOn #4 Mnet #5 Soribada — TWICE Charts (@TWICE_Charts) October 30, 2017
"Likey" went to the top of the Naver, Genie and Bugs music charts. The single charted at No. 3 on Melon, No. 4 on Mnet and No. 5 on Soribada right after its release. Its chart positions may have improved by the time you read this.
© 2023 Korea Portal, All rights reserved. Do not reproduce without permission.