TVXQ's Yunho to Return as a 'Military Man' for His New Drama 'Melo-Holic'
by
Margaux
/ Oct 27, 2017 05:09 AM EDT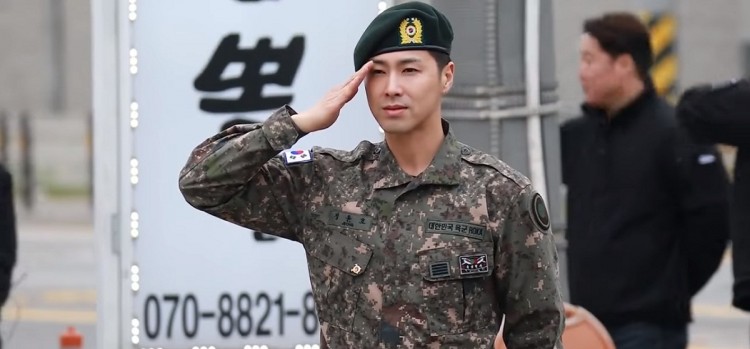 Yunho started his military enlistment in July 2015, where he entered the 26 Replacement Center in Yangju, Gyeonggi Province. He underwent training for a 5-week period, before being deployed. The experience is still fresh in Yunho's mind, making him the perfect fit for his role in the upcoming OCN drama "Melo-holic."
Pictures from the filming set of "Melo-holic" showed Yunho looking dashing in a military uniform. Apparently, Yunho's character will be resuming his studies after being away for two years during his mandatory service. The still-pictures showed Yunho 'cheering' his companions on, as they hug and kiss their girlfriends.
Yunho's character, however, doesn't have a girlfriend and could only help his friend improve their relationships. Though Yunho's character can easily bag a woman if he wanted to, he has a hard time trying to open himself up to others. He has zero dating experience too.
The drama "Melo-holic" was based on a webcomic with the same title. The story revolves around a psychology student who falls in love with a woman with an odd personality. Yunho's character, Yoo Eun-Ho, has a special ability which allows him to read the minds of other people whenever he touches them. Due to his special ability, he can't open his mind to anyone. He then meets Han Ye-Ri (Kyung Soo-Jin), a woman who totally acts differently from what she really feels and who she really is.
Yunho's character is described as a man who can make other couples happy (given his ability) but personally hasn't experienced any relationships with the opposite sex. His awkwardness towards dating and the lead female's aggressiveness towards it makes the drama a must-watch for many K-drama addicts. The drama "Melo-holic" is expected to premiere on November 6, starring Kyung Soo Jin and Yunho, but is expected to first air via mobile app 'Oksusu' on November 1.
© 2018 Korea Portal, All rights reserved. Do not reproduce without permission.