Kangnam Apologizes For HIs Controversial Remarks to Sam Okyere, 9MUSES' Kyungri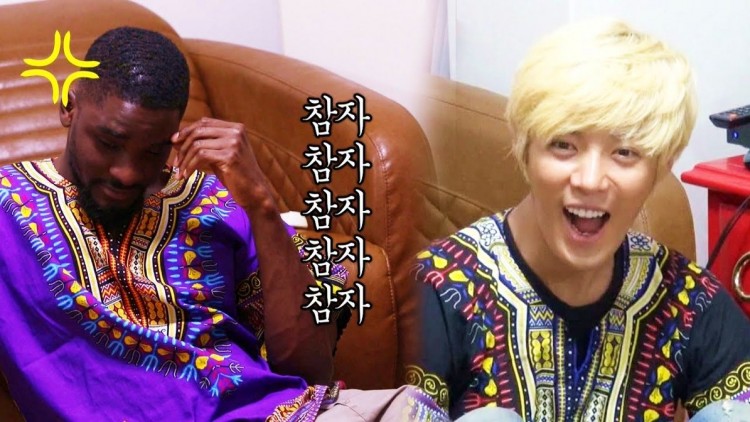 Kangnam has publicly apologized online for controversial remarks he made on a couple of shows. The most recent incident occurred on an episode of "My Ugly Duckling" with guest star Sam Okyere, a TV personality from Ghana who has lived in Korea for nine years. The other incident, which involved Kyungri from 9MUSES, happened about two months ago.
Soompi reports that Kangnam made the apology on his personal Instagram feed on October 24. "I want to express my sincerest apologies to Kyungri and Sam once again and I apologize to and am grateful for the viewers who have taken me to task for what I have done wrong and taught me better," Kangnam posted.
He explained that the controversial remarks were his attempts at humor on the broadcasts, but he realizes that he crossed the line in going for a laugh. Kangnam added that he was not very confident that he could write in Korean well enough to convey his apology with clear sincerity, but he is writing it anyway with the help of a staff member. "I should have taken responsibility as a broadcaster and shown a discreet side of myself, but I was unable to and I am ashamed and regretful," Kangnam said in his statement.
Kangnam upset numerous "My Ugly Duckling" viewers with comments that some have called "rude" or "racist" toward Okyere. On the episode that aired on October 22, Kangnam and H.O.T.'s Tony Ahn paid a visit to Okyere's home in Korea.
Netizen Buzz notes that Kangnam expressed surprise on hearing Okyere talk about being a celebrity in Ghana and doing TV interviews. "Ghana has TVs?" he said incredulously. "Of course they do," cut in Ahn. "You're being rude."
Kangnam kept asking Okyere questions in the same vein. "We have everything," Okyere said. "We even play Korean dramas." As Kangnam continued his line of questioning, Okyere explained that Ghana's cities are similar to Seoul. "Similar to Seoul?" Kangnam said. He asked if they had buildings and clubs in Ghana. Although Kangnam may have been joking, a good number of viewers found his remarks to be in poor taste.
The Kyungri incident took place on a Naver TV variety show episode in August. Insight reports that Kangnam made a couple of shocking jokes about physically striking the 9MUSES member. "I could beat her to death if you told me to," Kangnam said at one point. Kyungri seemed appalled at his statement, which quickly drew condemnation from online commenters.
© 2023 Korea Portal, All rights reserved. Do not reproduce without permission.