Sandara Park and Mario Maurer Spotted Together in the Philippines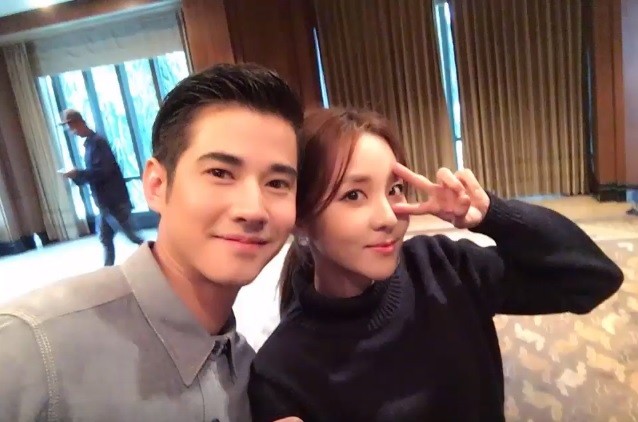 On October 10, Sandara Park and Mario Maurer have been spotted once again in the Philippines, making several Filipino fans think that they are dating. However, the two Asian stars are just back in the country for the launch of Head and Shoulders' new offering, Supreme. Also, both of them shared the reason why they love the Philippines and why they keep on coming back.
During their stay in the Philippines, Sandara Park and Mario Maurer talked about what they love about going back to the country. Sandra told Rappler: "Filipino food is delicious and it's not readily available in Korea. The first thing I do is always go to a Filipino restaurant and order sinigang and sisig."
On the other hand, Mario Maurer said that he missed his fans in the Philippines. He also considers them as the greatest because they always support him. Mario Maurer also revealed that the whole welcome that they give him every time he comes in the country is like no other to the point that fans even wait for him in the airport.
Aside from that, the two have another thing in common - they have the same circle of friends. Sandara Park, who rose to fame on the Philippine show "Star Circle Quest", and Mario Maurer are both close with Filipino actor Joross Gamboa. As for Sandara Park, Gamboa is her best friend, while Mario Maurer got the chance to work with him in the movie "Suddenly It's Magic".
When asked about a possible project in the Philippines, Sandara Park and Mario Maurer are open to working with one another on movies or shows. The two expressed that they would love to do more things in the country and come back soon.
Dating rumors spark when Mario Maurer was asked by Philippine Star on dating a co-worker. He said that it's not bad and it's only a matter of time management. Yet while he said that he assured his fans that is currently single and not seeing anyone because he wants to focus on his new Thai show coming out this month. Meanwhile, watch what Sandara Park and Mario Maurer did when they were in the Philippines.
© 2018 Korea Portal, All rights reserved. Do not reproduce without permission.