Irene Fans Call Out San-E for Being Rude Towards Actress; Agency Speaks Up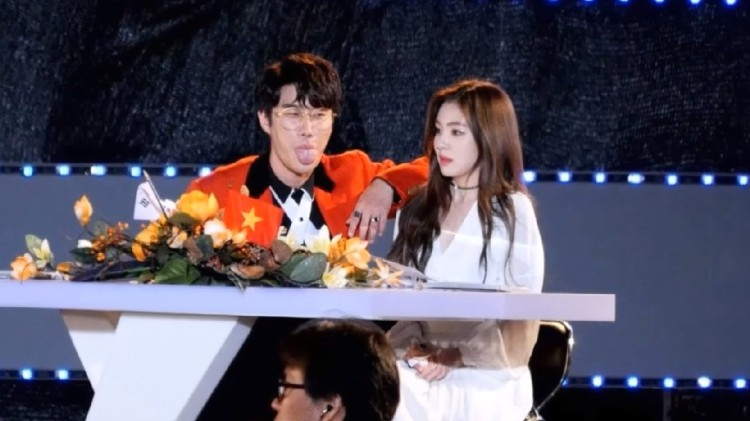 Fans of Irene are angry at San-E. They say that his actions towards the Red Velvet Member are "rude." The rapper's agency has spoken up about the issue.
Irene and San-E recently made an appearance on "Ansan Friendship Super Show." They are supposed to perform to celebrate the relation between South Korea and Vietnam. However, the fans seem as though they are not pleased seeing the way San-E acted towards the Red Velvet member. It turns out that the rapper's actions around the singer appeared to be rude for fans.
During the event, Irene waved to her fans while she was sitting beside San-E. However, at that moment, San-E immediately put his left arm on the singer's shoulder and stuck out his tongue as if he is teasing the fans. Meanwhile, the Red Velvet member appeared to be shocked at what happened. Even so, she still smiled and tried to laugh it off.
But that is not it. San-E made the fans' eyebrows raised all the more after he sang "Sour Grapes." While performing on stage, he pointed his finger at Irene while enunciating the lyrics, "I will clap, I'll admit it you're my type... Look at her picture, you will automatically get a tent (erection)."
A netizen then pointed out that his actions pointing at the singer while performing "Sour Grapes" is an inappropriate action, as per Koreaboo. Even so, there seems to be no problem at all between Irene and San-E. In fact, his agency brushed off the issue.
According to Naver, Brand New Agency just shook off the allegations and said that it is "not a big problem" at all. But Irene fans got even more angered at the way the rapper's agency sees it. On the other hand, the Red Velvet member's camp has not released a statement on the issue yet.
© 2019 Korea Portal, All rights reserved. Do not reproduce without permission.