SUGA Shares How Much Epik High Adores BTS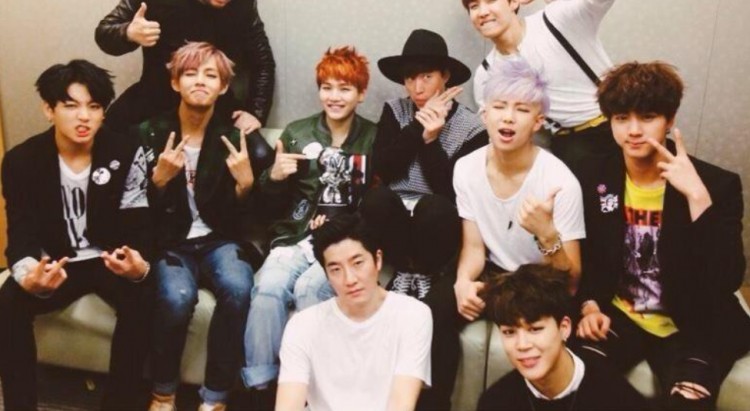 The Mnet recently aired a special "BTS Countdown" on October 12, which showed how the BTS members met and spent time with their fans. The idol group even shared how member Suga is close with Epik High and talked about how they respect the latter.
The episode included a Question-and-Answer portion and Suga was asked about his connection with Epik High. Before he could answer, J-Hope commented that Suga has a lot of impressive connections, and revealed that Suga has been in contact with Epik High's Tablo lately. J-Hope requested his co-member to share his secret to the crowd.
The other guys got excited immediately when Suga started off by saying "Well, in the case of 'Blo hyung'..." They were impressed because Suga said the term "hyung", which is used by men for an older brother or male friend. He even used the shortened name of Tablo, indicating how close they really are. "The Epik High members really like BTS," he said. "They even bought our new album and showed it over during a video call." He ended by saying that he likes Epik High as well. Moreover, the other members of BTS also talked about how much respect they have for Epik High and Tablo.
Suga's friendship with Epik High is meaningful for him because they are one of the reasons why he decided to be a rapper. Soompi even shared that Suga was inspired by Epik High's "Fly". On the other hand, earlier in May, Tablo shared a screenshot of a photo he received from SUGA when BTS was at the Billboard Music Awards and he commented that he was very proud of them. Tablo also showed his support via Twitter for BTS' new mini album.
In addition, Suga and Tablo will be collaborating for the first time ever. They will be featuring in the new single album of the legendary artist. Tablo reportedly gave a new track to Lee So Ra and suggested her to feature Suga. However, Koreaboo said the artists are still discussing it and there are no final plans yet. Meanwhile, watch how BTS and Epik High support each other below.
© 2023 Korea Portal, All rights reserved. Do not reproduce without permission.