Akdong Musician's Lee Chan Hyuk Looks Different in New Marine Corps Video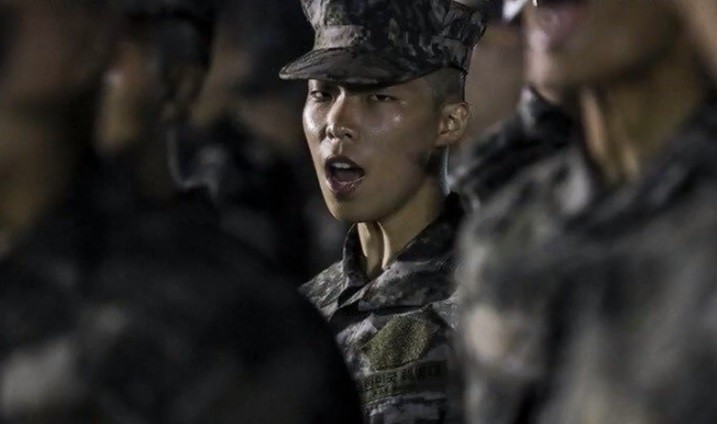 Half of the K-Pop brother-sister duo was recently spotted in a video message posted on the official blog of Marine Corps. Akdong Musicians' Lee Chan Hyuk looked different but seems to be doing well in his mandatory military enlistment.
The uploaded video consists of messages from the Marine Corps' 1226-class trainees, including Chan Hyuk. Translated by All K-Pop, Chan Hyuk said that he likes and want to live in the Marines. His stance and the way he talked showed how he has fully adjusted to the spirit of the army. Additionally, he even had the look of a real military soldier with his sharp gaze and strong voice.
The news that Lee Soo Hyun's brother will enlist in the military first came last September 13 when industry representatives reported that the singer will be joining the Marine Corps on September 18. True enough, he entered on that day, without catching the public's attention. He was first photographed inside the military sometime last month, together with the other trainees.
Earlier this year, Chan Hyuk shared that five of his closest friends are all either in the military right now or have been discharged. Despite of this, he is not pressured to enlist alone. He adds that he wants to experience a new environment and return more mature in both the outer appearance and on the inside.
In addition, Akdong Musician made a comeback in January and released their album with their latest single titled "Last Goodbye". The song sold over 1.3 million copies digitally, making it one of this year's biggest hits and one of YG Entertainment's most successful acts. Subsequently, seven months later, the duo teased fans with dark and eerie photos that promoted their songs like "Dinosaur" and "My Darling".
According to Soompi, Akdong Musician's Chan Hyuk is set to undergo basic training for a duration of seven weeks before being assigned to a post. Meanwhile, his sister Soo Hyun will continue with her solo activities.
© 2018 Korea Portal, All rights reserved. Do not reproduce without permission.