BTS Teams Up With VT Cosmetics for Collagen Pact Collection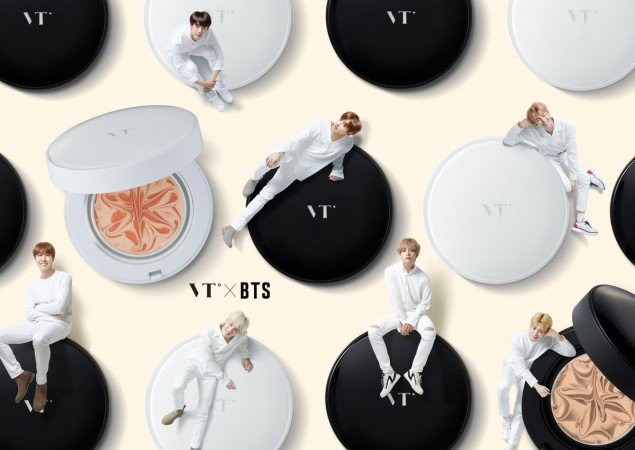 K-pop group BTS teamed up with VT Cosmetics to launch the new Collagen Pact with two color-correcting shades. The collection dropped on October 10 and is the key to bring you one step closer to glowing skin like the chart-topping boy group.
The special Collagen Pact is available in dual colors, black and white. Both feature SPF 50, as well as fine line-reducing and brightening ingredients that promise protection to the skin from blemishes or wrinkles for a more youthful, softer glow. They'll also help cancel out redness and boost the hydration of your skin. Using the cushion applicator, just stamp it onto your skin and be satisfied with how dewy your skin can be.
Unlike the foundation-soaked sponges used with traditional cushion compacts, the Collagen pact is a creamy formula poured into a pan. It's a major plus because it considered hygiene purposes. The BTS x VT Cosmetics collection also comes in three sets which include exclusive packaging featuring the members themselves, cute little stickers designed by the group, and pictorials of BTS dressed in all white.
PopSugar claims that this collaboration with VY might be the most coveted K-beauty line of the year because of the enormous and global fan base of the group. BTS goes by a lot of names, including Bangtan Boys, Beyond the Scene, and Bulletproof Boyscouts, and consists of seven members. You might also recall them as the band that beat out Justin Bieber, Selena Gomez, Ariana Grande, and Shawn Mendez for the best social artist award at this year's Billboard Music Awards. Their fan base Adorable Representative M.C. For Youth or simply A.R.M.Y. is comprised of millions of dedicated followers. With that incredible number, there's no doubt that they can propel BTS to the top, may it be in the Korean industry or any global award show.
The BTS x VT Collagen Pacts are only available in Korea at the moment. Additionally, Allure said that the collection is not a limited edition and will be sold online later this month. You'll have to wait for VT's confirmation whether international shipping will be offered, though.
© 2018 Korea Portal, All rights reserved. Do not reproduce without permission.