Song Triplets Set to Walk on the Red Carpet at Busan International Film Festival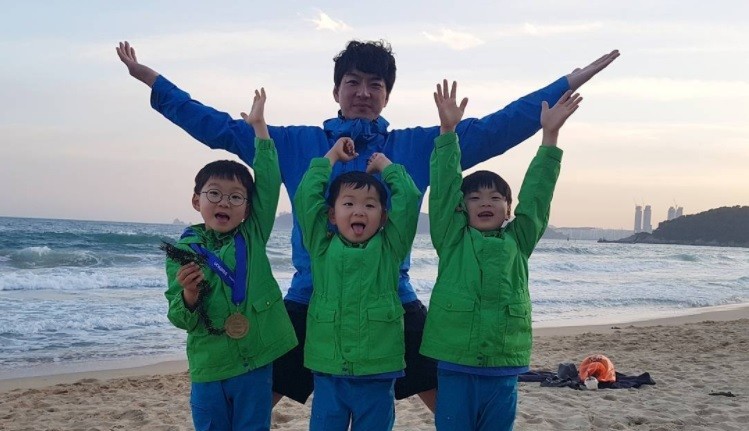 Three adorable sons of actor Song II Kook are set to attend the opening ceremony of this year's Busan International Film Festival (BIFF), with special seats reserved for them. On October 12, Daehan, Minkook, and Manse will also walk on the red carpet at the star-studded gala.
The three boys rose to fame when their family joined KBS 2TV's "Superman Is Back". When the news that actor Jang Hyun Sung and his two sons, Jun Woo and Jun Seo, were leaving the child-rearing Sunday variety program, the Song family filled in their role.
Song II Gook, most famous for his lead role in the 2006 MBC drama "Jumong", explained the meaning of his sons' names in the premiere of their first episode on July 6, 2014. "Dae han min gook" means "the Republic of Korea" in the Korean language, and "man se" is equivalent to "hurrah" in Korean. Their unique names chant "Republic of Korea, hurrah!" when combined.
The Song triplets stole the hearts of viewers for 19 consecutive months before they left the show that made them famous. On the Lunar New Year special episode of "Superman Is Back", the boys made their final appearance and reflected their most memorable moment throughout their stay in the program. Minguk's favorite part was when they visited a fire station and spent a day as a firefighter, while Manse chose the time they spent in the military. Lastly, Daehan preferred the day that they visited their father on the "Jang Young Shil" set.
Jung Seung Yeon, the triplet's mother, had nothing but good things to say about the show. "The best thing about this show was that we could keep a record of how much our children had grown," she told Soompi. "Now, I'm worried about how to remember moments like these going forward." Meanwhile, All Kpop noted that the Song triplet's guesting at the 22nd Busan International Film Festival will be their first televised public appearance since they left "Superman Is Back" on February 7.
© 2018 Korea Portal, All rights reserved. Do not reproduce without permission.