'Along With The Gods - Part 1': Ha Jung Woo, Kim Hyang Gi & Joo Ji Hoon Are Angels Of Death In Anticipated New Movie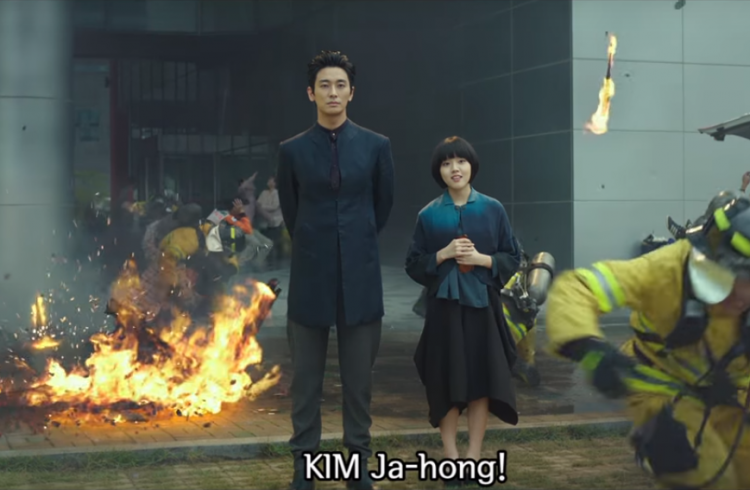 Ha Jung Woo, Kim Hyang Gi and Joo Ji Hoon are taking viewers on an adventure in the afterlife in "Along With The Gods - Part 1." The first part of the two-part big screen adaptation of a popular manhwa (or webcomic) has dropped its newest teaser with English subs and it sees Chae Tae Hyun meet his maker and try to survive seven trials to have another chance at life.
"Along With The Gods" or "Singwa Hamgge" is a fantasy movie based on a webcomic of the same name written by Joo Ho Min. The big screen adaptation was divided into two parts: the first one will be screened starting Dec. 20 this year. The second part will be released in summer 2018.
It follows a salaryman, a firefighter named Kim Ja Hong, played by Chae, who dies after an accident. Upon his death, he meets three grim reapers (played by Joo, Kim and Ha) who accompany him into the underworld. There, he must survive the next 49 days and overcome seven challenges that will test how he lived his life on Earth and whether he is worthy to be reincarnated.
The movie also stars Lee Jung Jae ("Warriors of the Dawn") as the King of the Underworld. Ma Dong Seok, Oh Dal Soo, Kim Su An, Do Kyung Soo, Lee Jun Hyuk and Kim Dong Wook are also set to appear.
The movie began production in May last year and wrapped up in March this year. As per Hello KPop, "Along With The Gods" has a staggering budget of 40 billion won (or US$34,966,000).
Kim Yong Hwa ("200 Pounds Beauty") wrote the screenplay and directed part 1 and part 2 of the big screen adaptation. It will be distributed by Lotte Entertainment. Watch the trailer with English subtitles below:
© 2018 Korea Portal, All rights reserved. Do not reproduce without permission.