Korean Technology Companies Launch Products at GITEX Shopper 2017
by
Nafeesa
/ Oct 01, 2017 10:48 AM EDT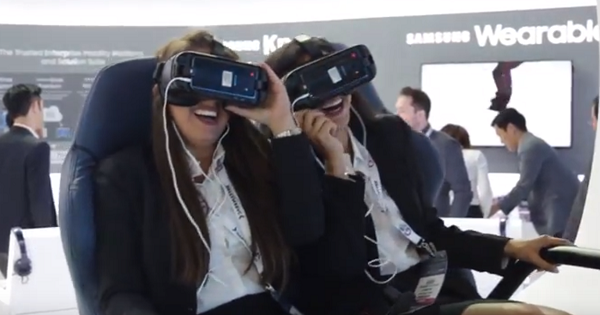 Korea's leading electronics brands are attracting Middle Eastern shoppers with compelling offers and latest product launches at the Gitex Shopper Autumn 2017 edition. Gitex Shopper is the must-attend annual event for tech-savvy shoppers in Dubai, United Arab Emirates. Taking place until September 30th the event this year has seen Korean Giants bring in latest technologies to impress the regional consumers.Top of the latest best products list is LG's new 65 inch TV and Samsung's VR and Galaxy S8 smartphones.
The past few years have seen a merging of the physical and digital worlds, and Samsung VR headsets have known to make the systems more accessible than ever before, and consumers are increasingly using VR. Samsung is displaying the latest VR headsets at Gitex Shopper, including Gear S3, Gear VR, Gear 360 and other accessories.
The UAE was recently ranked as number one globally for smartphone penetration and Samsung is utilizing this year's Gitex Shopper as the red carpet for its latest phones S8 and S8+. With the launch of Note series by Korean major is also maintaining its strong following.
There has been high competition among consumer brands to please regional consumers. Leading technology companies are also redefining the design of televisions, such as LG's Wallpaper and Samsung's The Frame, which are cleverly designed to look like stylish wall art. Samsung TV will be displaying its range of picture-perfect TVs at Gitex Shopper, including the revolutionary QLED TV. Whereas, LG is displaying its 65 inches 4K OLED TV at the Gitex Shopper.
While Samsung enjoys a strong foothold in the smartphone market here, LG has been the go-to brand for home appliances. The company has recently rolled out 87 Wi-Fi connected LG smart home appliances - including washing machines and dryers, refrigerators, ovens, dishwashers, vacuums, air purifiers and more - are now compatible with the Google Assistant on Google Home, eligible Android phones and iOS smartphones. LG has also made the Google Assistant service available in the UAE.
© 2019 Korea Portal, All rights reserved. Do not reproduce without permission.