'Shadowhunters' Season 3: Clary & Jace Go On Their First Mundane Date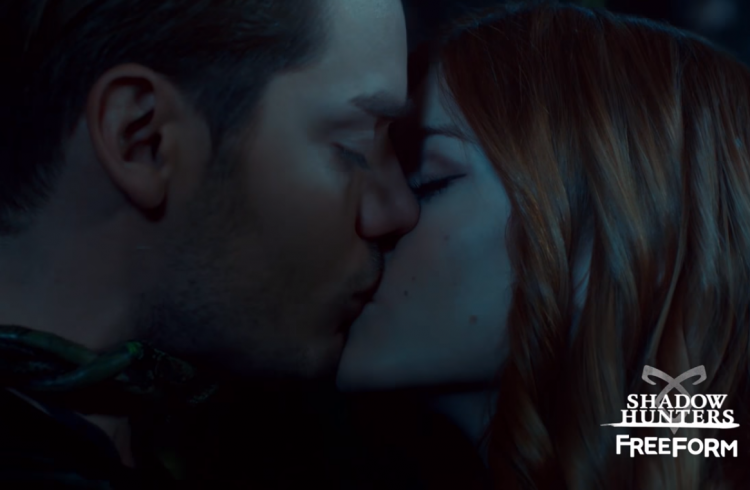 It took them two whole seasons, but #Clace is finally going to happen. In leaked photos and videos from the set of "Shadowhunters" Season 3, Clary (Katherin McNamara) and Jace (Dominic Sherwood) finally go on their first date!
[Warning: Contains "Shadowhunters" Season 2 and 3 Spoilers.] Sparks immediately flew as soon as Clary first laid her eyes on Jace. However, while the two were falling in love, they were told a lie that kept them apart: it was revealed that Jace is Valentine's (Alan Van Sprang) son and, therefore, was Clary's brother. Needless to say, the romance between the twp was prohibited, even in the Shadow World.
However, by the end of Season 2, Clary finally learned that Jace is not her brother. Finally, the two can freely express their feelings for each other and try their hands at being in a relationship.
Co-showrunner Todd Slavkin teased on Twitter that, yes, "Shadowhunters" Season 3 will see Clary and Jace on a date. "A mundane date," he said.
You wish is our command. Jace and Clary on a date. A mundane date #lovesweetlove #season3 #Shadowhunters https://t.co/XRWoWzElVg

— Todd Slavkin (@toddzer1) August 29, 2017
He did not reveal many details about the date, but the upcoming season of the fantasy teen drama has already begun filming. A few photos and videos from the set have already surfaced online and it gives fans a hint at what that mundane date would look like.
In the footage below, Clary and Jace can be seen walking on the streets. the red-haired Shadowhunter is wearing a sleeveless dress, while her new boyfriend is in his signature black clothing.
At one point, Jace removes his jacket and puts it over Clary's shoulder like a true gentleman. Meanwhile, Simon (Alberto Rosende) and Maia (Alisha Wainwright) stand behind.
Meanwhile, McNamara celebrated her return to filming by sharing the first look at Clary in "Shadowhunters" Season 3. "Clary 3.0," she wrote in the caption of her Instagram post. "a little #BTS for you angels on this #FrayFriday."
© 2018 Korea Portal, All rights reserved. Do not reproduce without permission.