'Days of Our Lives' Spoilers: Kristen is Back for Brady's Baby, Theresa Returns?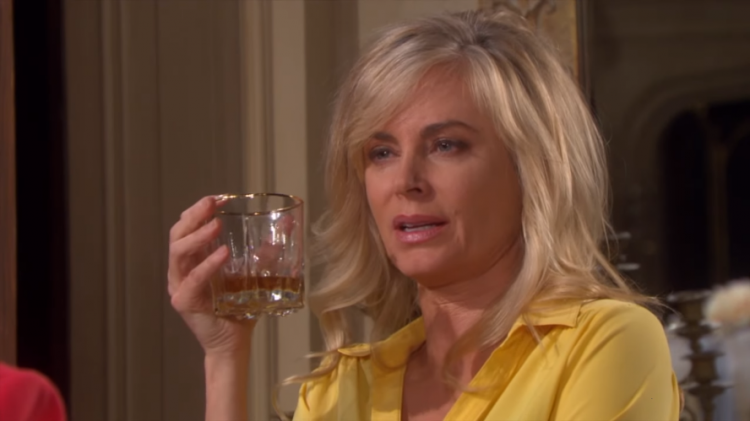 One of the longest-running daytime soap opera, "Days of Our Lives" have a lot of things going on as shown on its latest episodes. Fans were updated that Daytime Emmy winner Eileen Davidson who plays Kristen Dimera will return to the show, according to TV Insider. Kristen will be back with nothing but revenge.
Kristen Dimera is remembered as a character who stole the embryo from Theresa Donovan's (Jen Lilley) womb on the "Days of Our Lives." She did it after her stepson Brady Black (Eric Martsolf) ditched her for Theresa. She then transferred the embryo to her womb, carried the child and gave birth to a baby boy, she named Christopher.
Theresa and Brady did not have any idea that they were expecting a child so Kristen had the plan implemented easily. The couple eventually figured out what happened and they head off to find their son. Everyone thought that Kristen was dead after Marlena Evans (Deidre Hall) pushed her out of a window during a fight.
Kristen's body was never found, so it turned out that she survived the fall and she is returning to Salem soon. She only has one thing on her mind, getting Brady's son, now named Tate. Theresa left Brady and Tate after lying that she doesn't want to be a mother anymore. Theresa set off on an ISA mission to help take down a drug dealer she used to work with. She has not been seen on the show since then. Meanwhile, Tate is left with his father Brady, living in the Kiriakis Mansion.
Fans of the "Days of Our Lives" are very curious if Theresa Donovan will also make a comeback to the show, given that the safety of her son is in question. Though Brady will do everything in his power in keeping his son safe, he is undergoing some emotional issues on the latest episodes as stated in Blasting News.
Viewers are very excited and anxious on what kind of chaos will Kristen make now that she's on her way to Salem. "Days of Our Lives" airs every day on NBC.
© 2018 Korea Portal, All rights reserved. Do not reproduce without permission.