'Blindspot' Season 3: EP Martin Gero Talks Jane's Bio-Luminescent Tattoos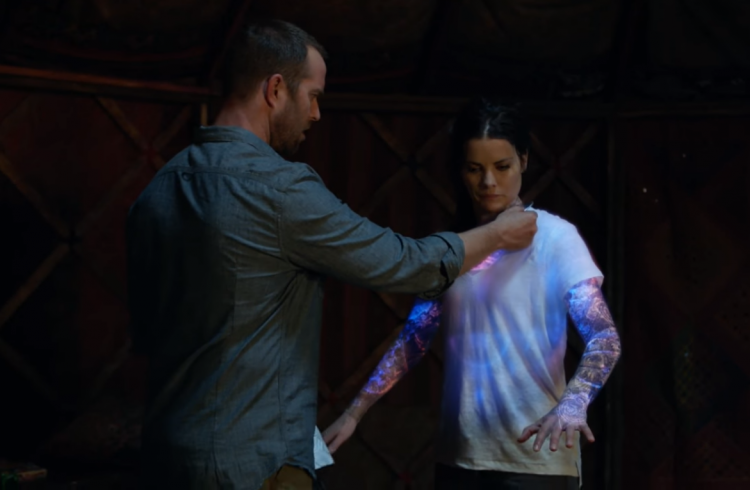 Over a month before the premiere of "Blindspot" Season 3, show creator, Martin Gero, is already willing to divulge new information about one of the biggest mysteries in the previous season's finale. In a new interview, he talked about Jane Doe's (Jamie Alexander) glowing tattoos.
To recall, after Jane Doe, Kurt Weller (Sullivan Stapleton) and the FBI have one final battle with the notorious criminal group, Sandstorm, the series flashes forward to two years when things have significantly changed. By the end of the episode, Jane and Weller were married and their relationship in trouble, their former co-workers have gone missing, and a mysterious person has left a metal box that made Jane's tattoos glow.
Jane's bio-luminescent ink will likely lead the federal agents on to new adventures in "Blindspot" Season 3. While it is no secret that Roman (Luke Mitchell), the protagonist's evil brother, who gave them to her, the reason behind the tattoos and its sudden appearance remains a mystery.
"Part of the fun this season is uncovering what they're pointing at and why Roman did this to her," he told EW. "I don't think it's any secret that Roman is behind these new set of tattoos and part of it is emotional. They're punitive in a way - he wants her back at the FBI. What I think is really exciting is he's going to show her, through these tattoos, who the people are that she's working with."
While Jane and Kurt get busy decoding these new glowing tattoos, they should not expect Shepherd to stir trouble any time soon. According to Gero himself (via TV Line), there are currently no plans to bring Michelle Hurd back to the crime drama.
However, considering that the villain is still very much alive at the end of Season 2, it is possible that she makes a reappearance at some point. "We don't yet have a plan to bring her back, but it's not a closed door in any way," the screenwriter stated. "Blindspot" Season 3 will premiere on Oct. 27 on NBC.
© 2018 Korea Portal, All rights reserved. Do not reproduce without permission.