'The Sims 4: Toddler Stuff Pack' Bringing New Clothes, Items And Interactions To Toddlers In August 24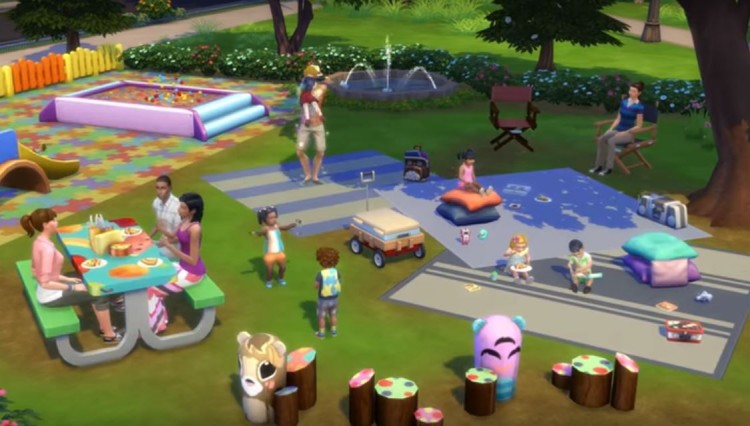 "Toddler Stuff Pack" is coming out soon to "The Sims 4." It enhances the gaming experience of toddlers by bringing new in-game items such new playgrounds and new outfits.
Electronic Arts have announced the upcoming "Toddler Stuff Pack" for "The Sims 4." It brings many in-game items such as new outfits to better dress-up toddlers in the game, new playground equipment designed for toddlers such ball pit, slide, and colorful tunnels.
Certain in-game items delivered by the new stuff pack have toddler interactions such as Make Believe with effects based on imagination including turning a play structure into a pirate shipwreck or galaxy exploration as an astronaut. Moreover, players can invite toddlers from the neighborhood to create a simple play date, according to "The Sims 4" official website.
"The Sims 4: Toddler Stuff Pack" will also allow players to customize lots just with other released packs. This enables creation of custom-made playgrounds using new items and the possibility of having a new lot type designed for toddlers and children. Creative players may also want to combine features from other packages of the game such as a playground with swimming pool, library section or a coffee bar to let parents relax while the kids enjoy making friends in the area.
"The Sims 4: Parenthood" exclusive features are expected to apply closely on the new stuff pack. Interactions within play dates may increase the chances of allowing players to apply positive or negative reinforcement to Character Values of toddlers, children and even teens, help players improve the Parenting Skill, make use of the Sack Lunch option to make sure kids won't get hungry while playing and even build toddler skills if the lot contains skill-building items.
"The Sims 4: Parenthood" is the latest game pack which adds the new Character Values to toddlers, children and teens with both positive and negative outcomes depending on the upbringing, the Parenting Skill inclusive of new aspirations, Teachable Moments to teach kids on how to handle certain situations, new traits, introduction of school projects that improves grade and increases related skill, sibling rivalry, new animations and behaviors, curfews, grounds and punishments and new in-game items, according to Carls Sims 4 Guide.
Electronic Arts will release "The Sims 4: Toddler Stuff Pack" on August 24, 2017. Players attending Gamescom in Cologne from August 22 to 26 may experience the stuff pack prior to its release date in the Family and Friends Zone in Hall 10.2.
© 2018 Korea Portal, All rights reserved. Do not reproduce without permission.