'School 2017' Parodies 'Moonlight Drawn By Clouds,' 'Descendants Of The Sun' In First Two Episodes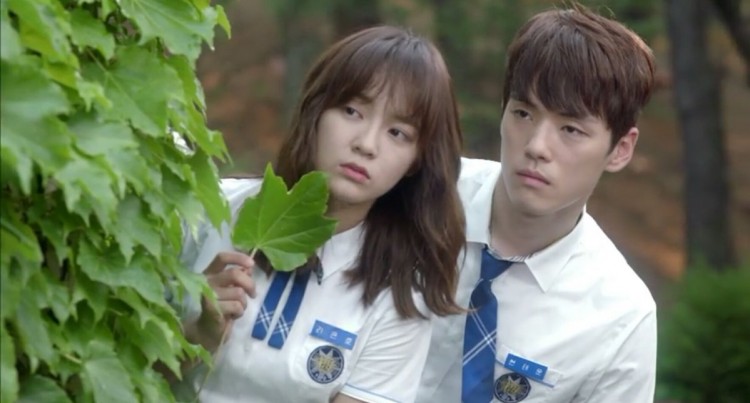 KBS's "School 2017" had quite an eventful week after it garnered positive reviews from the audience for an entertaining concept in the first episode of the drama. It seems that the newest installment in the "School" series will incorporate into its script parodies of famous dramas.
According to a report by Soompi, the stars did a parody of "Moonlight" drawn By Clouds" for its first episode featuring Gugudan's Kim Sejong's character imagining how it would be like to become campus heartthrob Kang Min Yuk's girlfriend. "School 2017" referenced the scene where Park Bo Gum's character tells Kim Yoo Jung's character:"There is kind love and there is bad love. I want to start the latter."
It can be recalled that Kim Sejong's lead character was initially offered to the "Moonlight Drawn By Clouds" actress so it would have been interesting to see her parody her own role. It could also be the reason why the writers of "School 2017" chose the series for its first parody.
In the second episode of "School 2017," KBS parodied another one of its hit series "Descendants of the Sun." This time, the scene involved the character of Han Joo Wan, who plays a homeroom teacher and Han Sun Hwa who is a campus police. They parody the famous scene where Song Joong Ki tries to block Song Hye Kyo's attempt to report him by knocking the phone off her hands and catching it.
"School 2017" has so far been getting many positive reviews for its opening week. A Drama Beans review said that the series has the right amount of lightness and entertainment that a drama involving high school students is supposed to be. The site also gave props to the adult cast for portraying their roles with a quirkiness that adds to the humor of the series. Kim Sejung is also getting praise for her performance in her first drama.
© 2018 Korea Portal, All rights reserved. Do not reproduce without permission.