'Bride Of The Water God' Episode 8 Spoilers, Watch Online: Past Secrets Uncovered, Hoo Ye's God-Like Powers Revealed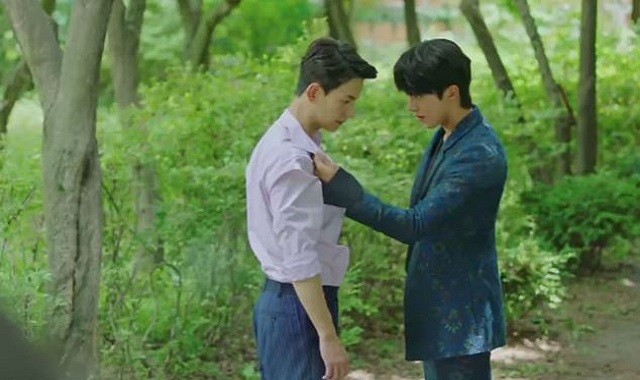 The upcoming "Bride of the Water God" episode 8 will unveil some of the beloved characters' secrets as Ha Baek (Nam Joo Hyuk) tries to solve a mystery in the mortal realm. The water god will also realize that Hoo Ye (Lim Ju Hwan) might be a difficult rival to beat with the said CEO adamant to get his hands on the god's land while gaining So Ah's (Shin Se Kyung) affections.
As Ha Baek struggles to find the god stones to ensure his spot as the King of the Realms and return to Water Country, the water god's quest in the mortal world will become more complicated given Hoo Ye's true identity. The teaser clip for "Bride of the Water God" episode 8, as released by tvN, featured several tense moments between the two characters. It seems that the resort CEO might be a demi-god himself and has been living among the humans for centuries.
Given Ha Baek's discovery of the mortal blood that stained a stone near the mystical gate of the god's land, it appears that Hoo Ye might have something to do with the said incident. The water god will become suspicious of the resort CEO's real identity including his attempts to build a strong bond with So Ah. Avid viewers can also expect to see a confrontation between the two men with Hoo Ye giving Ha Baek a taste of his god-like powers in the upcoming "Bride of the Water God" episode 8.
Ha Baek might even find himself in trouble given Hoo Ye's supernatural abilities. Moreover, it appears the Moo Ra (Krystal) and Bi Ryum (Gong Myung) may have uncovered one of Hoo Ye's secrets given the said CEO's closeness with a young blind girl. Watch "Bride of the Water God" episode 8 online via Drama Fever, here.
Meanwhile, "Bride of the Water God" recently ranked on the list of popular TV shows in South Korea. For the chart period from July 10 until July 16, the tvN fantasy series nabbed the ninth spot on the Content Power Index, according to data from CJ E&M Entertainment and Nielsen Korea, as cited by Yonhap News.
"Bride of the Water God" airs every Monday and Tuesday on tvN. Watch the teaser clip below:
© 2018 Korea Portal, All rights reserved. Do not reproduce without permission.