'Running Man' Stars Lee Kwang Soo, Jun So Min Mimic '2 Days 1 Night' Mini-Challenge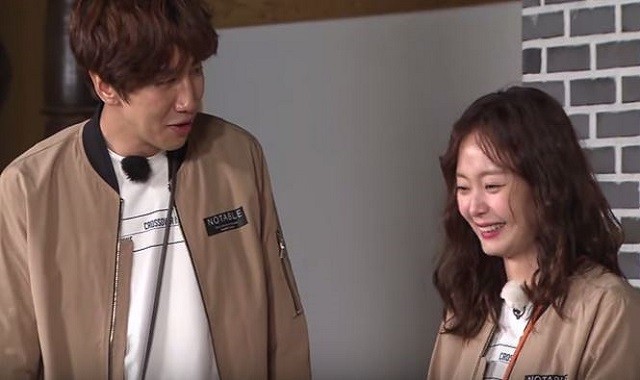 The recent episode of "Running Man" had some of its cast members attempting to do hilarious and embarrassing actions just to get a bite to eat. The said mini-challenge was similar to the funny antics shown in the variety show "2 Days 1 Night."
"Running Man" and "2 Days 1 Night" has been long-time competitor programs in South Korea's Sunday afternoon TV line-up. Despite boasting different formats with the latter known for its games that rewarded winners with the right to eat lunch or dinner, the former inadvertently had its cast members Lee Kwang Soo and Jun So Min participating in a mini-game for losing teams that are often featured in its competitor show.
In the "Running Man" episode that aired on July 16, Lee Kwang Soo and Jun So Min showed their determination to sample a delicious duck dish from the winning team. Recently dubbed the "magnetic human" given her ability to stick metallic objects on her face, Jun So Min willingly tried to affix a small metal lid on her forehead when Yang Se Chan challenged her to do. Given the actress' successful attempt, her fellow castmate rewarded her with a slice of duck, Korean news outlet MK News reported.
Lee Kwang Soo also tried to gain the attention of the winning team by mimicking Jun So Min's magnetic ability and trying funny antics. The "Running Man" veteran even cut pieces of dried seaweed to transform his face into a silly looking man with two missing front teeth, bushy eyebrows and a large mole on the side of the nose. Similar to its competitor show "2 Days 1 Night," the actor was rewarded for his hilarious efforts with a delicious mouthful of the duck dish.
Meanwhile, "Running Man" will soon release a special episode to mark its 7-year anniversary. Avid viewers can expect to see Jun So Min, Song Ji Hyo and Kim Jong Kook's respective brothers in the said episode, according to TV Report. Comedian Jo Se Ho will also appear, as well as Tae Hang Ho, Park Geun Shik, and Apink's Son Naeun.
"Running Man" and "2 Days 1 Night" airs every Sunday on SBS and KBS, respectively. Watch a clip of Lee Kwang Soo and Jun So Min's funny antics below:
© 2023 Korea Portal, All rights reserved. Do not reproduce without permission.