'Bride Of The Water God' Spoilers, Watch Online: So Ah Enjoys Romantic Date With Ha Baek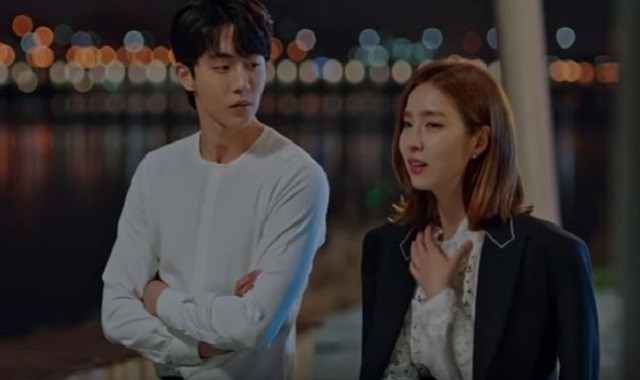 Avid viewers of tvN's fantasy series "Bride of the Water God" can look forward to a seeing some romantic scenes between the drama's two lead characters. Latest spoiler news teased of So Ah (Shin Se Kyung) and Ha Baek (Nam Joo Hyuk) enjoying a candlelit dinner together.
Romance will soon start to bloom between So Ah and Ha Baek. Recently released photo stills from "Bride of the Water God," as obtained by Asia Today, featured the doctor and the water god bonding together over good wine and great food.
In the said "Bride of the Water God" images, the dinner scene appears to be on the makeshift rooftop residence at So Ah's home where Ha Baek and his minion were staying in. Two pink-colored candles and two long-stemmed red roses served as the table's centerpiece, while individually plated dishes were laid down in front of the drama's protagonists.
So Ah also looked surprised with the formal table setting as she glanced sideways at Ha Baek. Another photo also showed the water god with a soft smile on his face as he looked at his human servant. It appears that the two characters will soon explore their growing closeness with each other in upcoming "Bride of the Water God" episodes.
A member of the tvN drama's production team told local reporters that Nam Joo Hyuk and Shin Se Kyung displayed great chemistry together while filming the said "Bride of the Water God" scene, as indicated in the same report. The said production insider also hinted of Ha Baek and So Ah's rapidly developing romance and even teased of the two characters impending sweet relationship with each other.
Given the various attempts on So Ah's life, as well as Ha Baek's continued efforts to keep his human servant safe, it seems that the water god will start to notice that he may have developed deeper feelings for the said doctor. Watch "Bride of the Water God" episodes online via Drama Fever, here.
"Bride of the Water God" airs every Monday and Tuesday on tvN. Watch the teaser clip for episode 5 below:
© 2018 Korea Portal, All rights reserved. Do not reproduce without permission.