'Bride Of The Water God' Update: Nam Joo Hyuk Starrer Makes Impressive Jump On Popular Asian Series Chart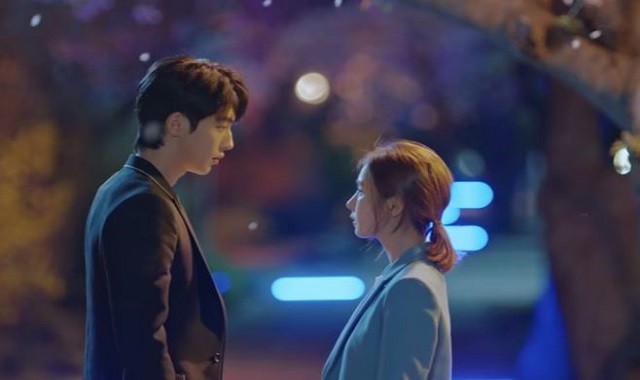 tvN's new fantasy series may have received mixed reviews, however, "Bride of the Water God" recently reached an impressive achievement. Nam Joo Hyuk's drama climbed more than 10 places to rank at the upper portion of a weekly popularity chart.
"Bride of the Water God" surged 14 places up on Drama Fever's Top 10 popular Asian series. For the chart period covering the week of July 11, the Nam Joo Hyuk starrer claimed the third spot, according to a list posted on the Warner Bros. owned video streaming site. Previously, the tvN drama occupied the 17th place but quickly ascended to the top of the said chart given its intriguing story and interesting characters.
With "Bride of the Water God" landing at Drama Fever's Top 3 list, the Nam Joo Hyuk starrer bumped off the KBS series "The Best Hit" from its previous third place ranking. The said Cha Tae Hyun summer drama dropped to number four, followed by the historical drama reboot of the popular film "My Sassy Girl."
Aside from "Bride of the Water God," other series that landed on the said chart's Top 3 included the recently concluded dramas "Suspicious Partner" and "Ruler: Master of the Mask." Ji Chang Wook's romantic comedy suspense series came in at first place, while the Yoo Seung Ho starrer nabbed the second spot. At the bottom half of Drama Fever's list would be the MBC drama "Lookout," the SBS variety show "Running Man," the Chinese drama "Love 'til the End of Summer," "Goblin" and "My Secret Romance" at sixth to tenth place, respectively.
Meanwhile, avid viewers of "Bride of the Water God" can look forward to seeing Ha Baek and So Ah's continued challenges and misadventures. Portrayed by Nam Joo Hyuk and Shin Se Kyung, respectively, a source from the drama's production team also revealed that upcoming episodes will feature the two characters' growing romance with each other, Korean news outlet Sports Donga quoted the source as saying.
"Bride of the Water God" airs every Monday and Tuesday on tvN. Watch a teaser clip below:
© 2018 Korea Portal, All rights reserved. Do not reproduce without permission.