'Bride Of The Water God' Episode 5 Spoilers, Watch Online: Ha Baek Jealous Over So Ah's Admirers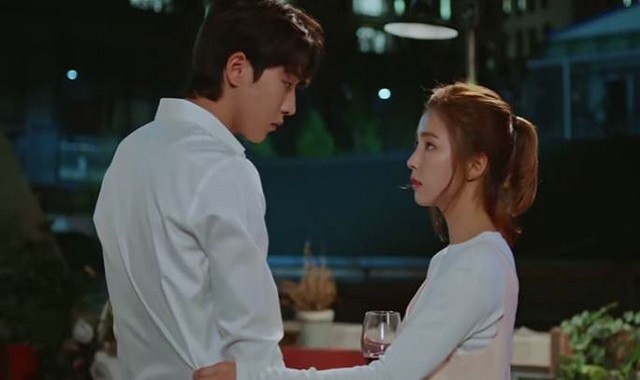 The upcoming "Bride of the Water God" episode 5 promises to feature the continued misadventures of a water god and his human servant. Latest spoiler news teased of Ha Baek's (Nam Joo Hyuk) efforts to keep So Ah (Shin Se Kyung) safe, as well as his growing apprehension given the two men who became interested in the said doctor.
With So Ah slowly accepting Ha Baek's claims that he is a water god and that she is bound to him as his human servant, the debt-ridden physician will find herself in several exciting and potentially dangerous situations. The teaser clip for "Bride of the Water God" episode 5, as released by tvN, featured harrowing moments that nearly claimed So Ah's life.
Given that a mysterious man is out to kill So Ah, the said character's latest attempt will involve tampering with her car. Ha Baek will again come to So Ah's rescue in "Bride of the Water God" episode 5 and will even showcase his driving skills. However, the doctor might encounter more than one dangerous incident where she will even get trapped in a car and potentially abducted.
Moreover, the wind god Bi Ryum (Gong Myung) will begin to show interest in So Ah. A scene in "Bride of the Water God" episode 5 preview showed So Ah unconscious in what appears to be the wind god's apartment with Ha Baek stopping Bi Ryum's hand from touching her.
Meanwhile, the resort hotel CEO Hoo Ye (Lim Ju Hwan) will continue to be a part of So Ah's life given the two characters' ongoing real estate deal. However, Ha Baek will start to become jealous of the said CEO's curiosity over his human servant, as well as Bi Ryum's growing interest in So Ah. Watch "Bride of the Water God" episode 5 online via Drama Fever, here.
In other news, "Bride of the Water God" recently became one of the popular Asian series on the online streaming site Drama Fever. The Nam Joo Hyuk starrer moved several spots from its debut number 17 ranking to land at third place, according to the latest chart listing posted on the Warner Bros. owned site.
"Bride of the Water God" episode 5 will be released on July 17, Monday, on tvN. Watch the teaser clip below:
© 2018 Korea Portal, All rights reserved. Do not reproduce without permission.