'Arrow' Season 6 Spoilers: Oliver's Green Arrow Secret Threatened, Black Siren To Change Villainous Ways?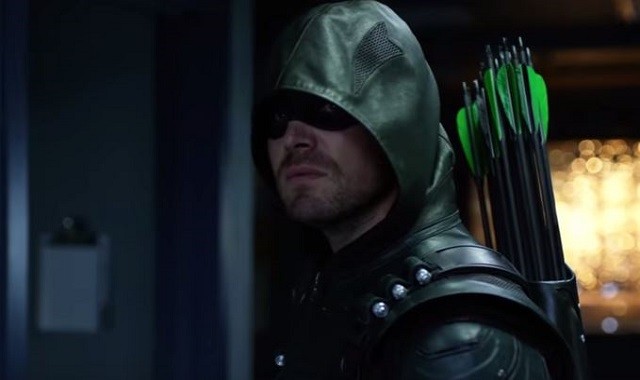 Secrets, along with a slew of old and new foes, will keep beloved characters busy when "Arrow" Season 6 returns to the small screens. Recently, interesting details about Oliver's (Stephen Amell) plight and Black Siren's (Katie Cassidy) return was revealed.
Avid viewers will continue to see several familiar faces in the upcoming "Arrow" Season 6 with Katie Cassidy reprising her role as Black Siren. In a recent interview with TVLine, co-showrunner Wendy Mericle described the actress' character as an interesting villain and even teased that fans will see a tough Black Siren in upcoming episodes.
Mericle also commented on speculations that the antagonist Black Siren might somehow turn into her Earth One self in "Arrow" Season 6, namely the protagonist Laurel Lance. The showrunner stated, "I don't know if there's any question about whether or not the [idea] of redemption will come up; it has to ... Her father is there. Oliver is there. Everyone is going to be asking whether or not it's possible to find a little piece of Laurel, the Laurel Lance they knew and loved, in there somewhere."
Apart from Black Siren's potential redemption, the latest "Arrow" Season 6 teaser news also hinted of Oliver's constant challenge to keep his Green Arrow identity a secret from other people. Story speculations indicated that a persistent FBI agent will keep a close eye on Stephen Amell's character to learn more about him and his life.
Meanwhile, the Green Arrow's harrowing encounter with the villainous Adrian Chase (Josh Segarra) in the show's previous season transformed the said protagonist. Executive producer Marc Guggenheim told Entertainment Weekly that the upcoming "Arrow" Season 6 will feature a changed Oliver. Despite still retaining most of his tough and sometimes loveable qualities, the Oliver that fans will soon see on the small screens will have a "different sense of himself" and will play a mentorship role to some of his friends as they encounter various challenges.
"Arrow" Season 6 will premiere on Oct. 12 on The CW. The said episode, titled "Fallout," will tackle the aftermath of the island explosion and the fate of the Arrow Team.
© 2018 Korea Portal, All rights reserved. Do not reproduce without permission.