EXO Release 'The War' Teasers For Chanyeol, Baekhyun; Members Tease New Songs, Repackage Album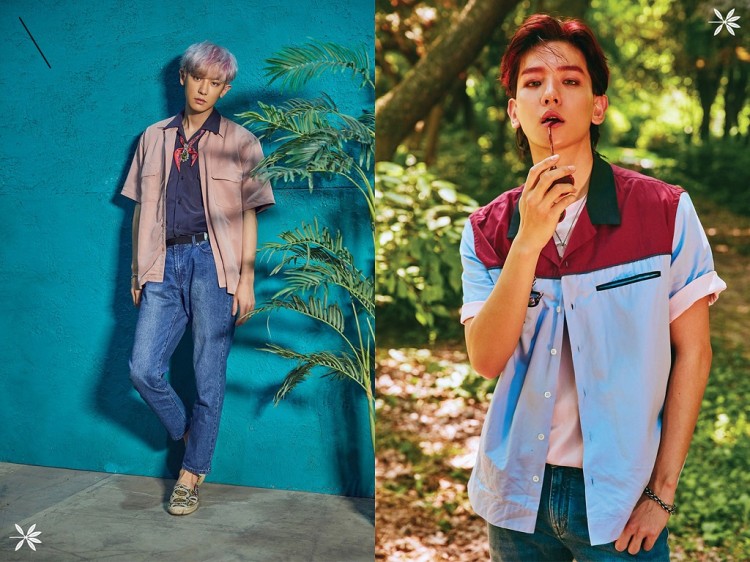 SM Entertainment recently kicked off their promotions for the highly anticipated comeback of their most popular boy group, EXO. The said group just released new sets of teasers featuring members Baekhyun and Chanyeol.
Last week, SM Entertainment revealed teasers for EXO's new and fourth album, "The War" and its title track "Ko Ko Bop". In addition to the album details, the said company also released three new logos that adhered to the group's comeback concept. Shortly after the first teaser was released, SM Entertainment started dropping the solo teasers of each member on the midnight of July 10.
The first set of teasers starring EXO dancing machine, Kai. The next ones released featured Byun Baekhyun and Park Chanyeol, respectively. The teasers noticeably revealed different tunes, which is an indication that SM Entertainment might be teasing every new song or giving out various parts of the new title track, "Ko Ko Bop". Dedicated fans of EXO even went lengths to combine the melodies used in the teasers to get a gist of their new song.
EXO vocalist, Baekhyun sported a fiery mullet hairstyle, taking back a lot of people into the 1980s when the said hairstyle was hugely popular. Meanwhile, rapper Chanyeol revealed a whole new look as he sported a bright cotton candy-colored hair. The are delving into another novel concept and though Kai and Baekhyun's new hairstyles are getting few negative reactions, they still look great in it.
Just recently, EXO went on a live broadcast through Naver V Live and took the time to tease fans while they were on a break from practice. At that time, Kai's teasers were already revealed and the boys were still adamant on keeping their new hairstyles as most of them were wearing caps. EXO promoted their new album, "The War" and Chanyeol even gave brief teasers of each song as he played them on his phone. The boys urged fans to look forward to their new song "Ko Ko Bop" and even hinted to watch out for the repackage album.
© 2019 Korea Portal, All rights reserved. Do not reproduce without permission.