'Shadowhunters' Season 2, Episode 16 Sneak Peek: Jace And Clary Take The Awkward Bus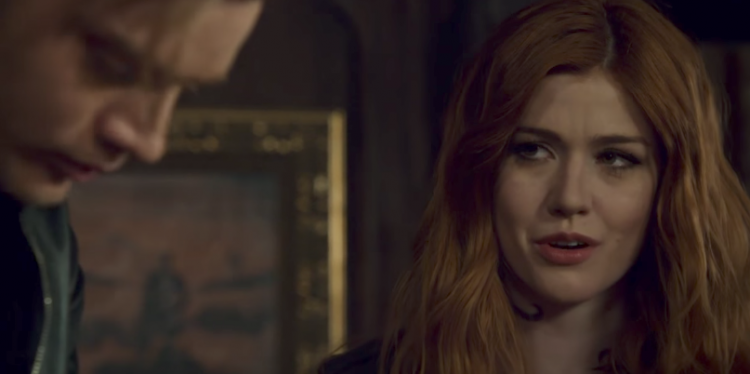 Things are awkward between Jace and Clary and clearly, Clary is uncomfortable around Jace. The new sneak peek trailers for "Shadowhunters" Season 2, Episode 16 titled "Day of Atonement."
Warning: This article contains spoilers from "Shadowhunters" Season 2 spoilers. Read if you wish to know more.
"Shadowhunters" Season 2, Episode 16 Sneak Peek Trailers: In this video, Jace and Clary are assigned to look for clues to find Valentine. But, Clary is not happy and she confronts Jace.

"You asked Alec to assign both of us to search Staten Island?" Clary asks Jace in the video. Jace tells her that he wants someone he could trust. But, Clary gives him that look and Jace tells her that it was she who wanted to make searching Valentine the priority. "Yeah, but I didn't mean we had to search together. Wait. This is Idris," Clary says.
"Yeah, you really think Valentine is in Staten Island?" Jace says. But, Clary feels that The Clave has Idris covered. However, according to Jace, they might be looking at the wrong place. He tells Clary that Valentine was taken to a cabin in Brocelind Forest when Jace was a kid. However, it is likely that they will not find Valentine hiding in the cabin. Jace believes that they can find more in the cabin than they can in Staten Island.

In the video above, Jace and Clary come into the control center and Jace asks Clary about why she walks out of a room every time he walks in. But, Clary denies. Jace tries to explain that they need to address the elephant in the room. However, for Jace, there are more pressing issues that need to be addressed.
Stay tuned for more "Shadowhunters" Season 2 spoilers, news and updates. "Shadowhunters" Season 2, Episode 16 airs Wednesday on Freeform.
© 2018 Korea Portal, All rights reserved. Do not reproduce without permission.