Eminem New Album: 'Rap God' Rapper, 2 Chainz Recording Collaboration Song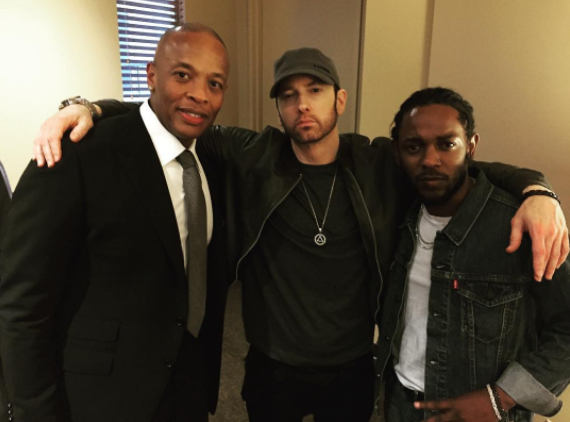 Little by little, fans of Marshall Bruce Matthers II, who is professionally known as Eminem, are getting to discover the details of his upcoming ninth studio album. The most recent one is about the collaboration song the "Rap God" rapper is recording with Tauheed Epps, who is professionally known as 2 Chainz.
Recently, 2 Chainz appeared as a guest on DJ Drama's Shade 45 program "Streets Iz Watchin," XXL Mag reported. On the show, the Atlanta rapper confirmed that he was working on Eminem's new album.
"That's how I know I can rap," 2 Chainz said. "He didn't want to talk about nothing but rapping. That was a great phone call to get."
It was Eminem's fellow D-12 member Denaun Porter who called 2 Chainz to tell him that the "Rap God" rapper wanted to work with him. Although 2 Chainz had known Porter for a long time, he did not believe it at first until he was informed that Eminem was at the house of Rick Rubin.
There are still no details about the release date of Eminem's upcoming ninth studio album. Meanwhile, 2 Chainz released his fourth studio album titled "Pretty Girls Like Trap Music" on June 16.
To promote "Pretty Girls Like Trap Music," 2 Chainz had a house in Atlanta painted pink to resemble the album cover with the words "TRAP" painted broadly across the front. One of the people who praised this marketing campaign is Ebenezer Baptist Church's young adults minister Michael Wortham, who is also from Atlanta.
"I haven't seen anyone put a marketing plan together for an album like that," Wortham told NBC News. But the musicality and the art form of "Pretty Girls Like Trap Music" deserve praises, he added.
"Pretty Girls Like Trap Music" contains several collaboration songs. Among them are "Realize" featuring Nicki Minaj and "Good Drank" featuring Gucci Mane and Quavo.
© 2018 Korea Portal, All rights reserved. Do not reproduce without permission.