'92 Club Members: MAMAMOO's Moonbyul, Baro, BTS' Jin, B1A4's Sandeul, EXID's Hani, VIXX's Ken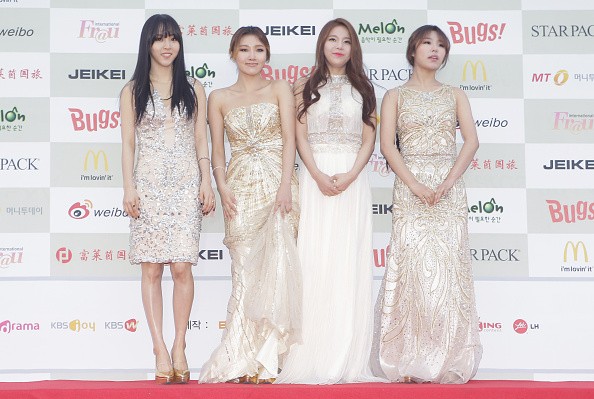 Many popular K-Pop artists of today were born in 1992. In fact, they formed an exclusive group and called in the '92 Club.
One of the '92 Club members, Moonbyul, recently talked about the exclusive group. She and her fellow MAMAMOO members Solar, Wheein and Hwasa appeared as guest on the airing of the MBC FM4U radio show "Kim Shin Young's Hope Song at Noon" on July 5, Wednesday, All Kpop reported.
On the show, Moonbyul revealed that the '92 Club has six members. The other members are rapper Baro, Jin of BTS, Sandeul of B1A4, Hani of EXID and Ken of VIXX.
Due to their busy schedules, the '92 Club members are not able to have regular meetings so they communicate through a group chat. Jin and and Sandeul are the most active members in the group chat, according to Moonbyul.
Moonbyul and her fellow MAMAMOO members released their fifth extended play on June 22. The EP has five songs namely "Yes I Am," "Finally," "Love and Hate," "Aze Gag" and "Da Ra Da."
The MAMAMOO girls have been dominating the R&B, retro and jazz genres in the K-Pop industry since Rainbow Bridge World launched them in 2014. Lee Hyori even mentioned the group at the press conference for her new album "Black," Soompi reported.
For Lee, what makes MAMAMOO different from other K-Pop groups is their energy on stage so she has her eye on Moonbyul, Solar, Wheein and Hwasa. Such energy is something that cannot be developed merely by practicing as it is something innate, according to Lee.
Released on July 4, Tuesday, "Black" is Lee's sixth studio album, which is her comeback album as her fifth studio album was released in 2013. The songs in the self-produced album were inspired by the years she spend on Jeju Island when she went on hiatus.
© 2023 Korea Portal, All rights reserved. Do not reproduce without permission.