CNBLUE's Yonghwa Spot Music Trends Well: Minhyun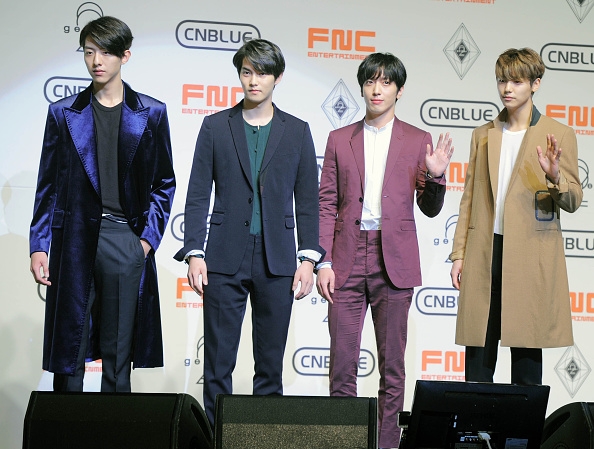 Professionally known as Yonghwa, Minhyuk, Jonghyun and Jungshin, CNBLUE members Jung Yong Hwa, Kang Min Hyuk, Lee Jong Hyun and Lee Jung Shin were among the headliners at KCON NY on July 1, Saturday. In a recent interview, the K-Pop artists talked about their music genre.
"I definitely feel like Yonghwa is good at spotting trends musically," Minhyun told Billboard. "Utilizing pop sounds within the music that we're doing. I'm really proud of that, and I really enjoy doing that."
FNC Entertainment formed CNBLUE in 2009 with Yonghwa as the leader. Original member Kwon Kwang Jin was eventually replaced by Jungshin.
For Yonghwa, the conflict between rock music and K-Pop is something of the past. With social media and other modern advancement, times are changing very quickly and it is important to go along with these changes and this is what CNBLUE is trying to do, the leader of the group said.
Yonghwa, Minhyuk, Jonghyun and Jungshin are not only synthesizing the trends in the music industry. They are also retaining their own colors as CNBLUE, Yonghwa pointed out.
Furthermore, Yonghwa cited Coldplay and Maroon 5 as examples of bands with specific music genre that listeners can easily identify through the albums they release. CNBLUE wants to be at the forefront of the trend involving the meshing all the genres is a trend, Yonghwa added.
As a solo artist, Yonghwa has an EP titled "Do Disturb," which will be released on July 19, according to All Kpop. Its title song "That Girl" features rapper Loco.
"Do Disturb" is Yonghwa's first mini album. The title is the opposite of the "Do Not Disturb" signs hanging on hotel doors during his concert tour as he wants to reach many people with music that are easy on the ear.
As an actor, Yonghwa made his debut in "Cook Up a Storm," which was released on Feb. 10. The CNBLUE leader starred in the Hong Kong-Chinese comedy film opposite Nicholas Tse, Ge You and Tifanny Yang.
© 2023 Korea Portal, All rights reserved. Do not reproduce without permission.