Microsoft's Cancelled 'Surface Mini' Resurfaces Again
by
Pradeep
/ Jul 05, 2017 03:45 AM EDT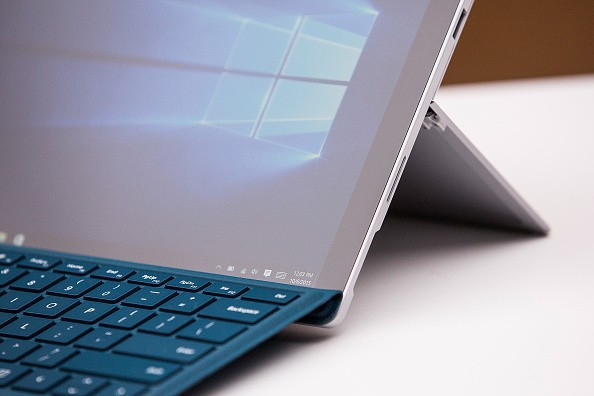 To recall, Redmond tech-giant Microsoft introduced its widely-acclaimed Surface Pro 3 back in 2014. What many weren't aware of was the fact that the series was supposed to be receiving another Surface device dubbed 'Surface Mini.' However, for reasons unknown the 'Surface Mini' was cancelled at the last minute. Now, alleged images showcasing the Microsoft 'Surface Mini' in its full glory have surfaced online. While the credibility of the same cannot be attested, it is interesting to observe what Microsoft had to offer with its 'Surface Mini' device.
CNET citing sources in Windows Central published a post yesterday that reveals key details regarding the Microsoft 'Surface Mini.' As per the provided information, the 'Surface Mini' was speculated to feature an 8-inch display with 1,140 x 1,080-pixel resolution and was going to be powered by Qualcomm's Snapdragon 800 clocked at 2.15GHz coupled with Windows RT 8.1. On the storage front, the device was going to offer 1GB of RAM along with 32GB of internal storage with support for dual-band Wi-Fi. The result has got nothing to do with Microsoft's future plans now, but if 'Surface Mini' did work out back in 2014 then it would have been the firm's first attempt at offering a tablet that is under 10-inches.
As pointed by Digital Trends, Microsoft's Surface line-up series of tablets have been pretty successful for the company. Therefore, it is understandable for Microsoft to keep releasing new Surface tablet variants. However, it was quite unfortunate to learn about Microsoft's decision to kill off 'Surface Mini,' back in 2014. In the company's earnings report for the fourth quarter of 2014, it could be clearly interpreted that Microsoft was in no condition to plan any more additions to this section at least. As can be recalled, Microsoft held an event on May 20 in New York wherein the company introduced the 12-inch Surface Pro 3 tablet. Rumors and speculations regarding the same started appearing way before the event took place.
As per a report published by ComputerWorld.com, Microsoft canceled its plans for launching the 'Surface Mini' at the last event. Expert analysts started indicating that the company has probably postponed the launch of its 'Surface Mini' device. Clearly, the launch never took place and it is still a mystery as to why Microsoft decided to do away with that product altogether. While media organizations tried reaching out to Microsoft for a comment, they refused to provide any details regarding the same.
© 2020 Korea Portal, All rights reserved. Do not reproduce without permission.