Apink's Bomi Guilty Of Blackface In 'SNL Korea' Skit?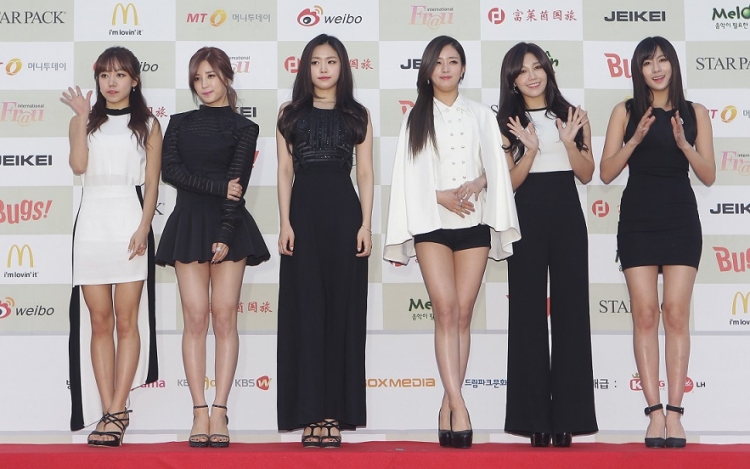 Yoon Bo Mi, who is professionally known as Bomi, is currently under fire after her recently appearance on "Saturday Night Live Korea." The K-Pop girl group Apink member was accused of doing blackface in a skit on the tvN comedy show.
Bomi did not appear alone in the episode of "SNL Korea" on July 1, Saturday. She appeared as a guest in one segment of the comedy show with her fellow Apink members Park Cho Rong, Jung Eun Ji, Son Na Eun, Kim Nam Joo and Oh Ha Young, whose respective screen names are Chorong, Eunji, Naeun, Namjoo and Hayoung.
In the segment, the Apink members portrayed the characters in "Dooly the Little Dinosaur," the Korean TV cartoon show that premiered in Korea in 1983. One of its characters is Michol, an African-American person who wants to become singer and looks up to the late Michael Jackson.
It was Bomi who portrayed Michol in the segment. For the role, she wore a curly wig and her mouth appeared bigger with the line drawn around it.
tvN uploaded the particular skit on YouTube and immediately received criticisms from all over the world but Korean fans were quick to defend Bomi. Neither the channel nor Apink has released a statement about the issue.
On the same day the Apink's guesting on "SNL Korea" aired on tvN, Bomi, Chorong, Eunji, Naeun, Namjoo and Hayoung made a guest appearance on a radio show, Soompi reported. On the show, they talked about their recent contract signing with Plan A Entertainment.
Apink stayed together as a group because their leader, Chorong, worked hard for all of the members, according to Eunji. The leader convinced her fellow Apink members that it was time to renew their contacts, according to Bomi.
On June 26, Apink released their sixth mini-album titled "Pink Up." A week before this, Bomi threw the opening pitch at a game between the LG Twins and the Samsung Lions, All Kpop reported.
Bomi's posture and speed during her pitch earned applause from the audience. The sportscaster even commented that the Apink member seemed like a professional player.
© 2023 Korea Portal, All rights reserved. Do not reproduce without permission.